Waldeier's big night sparks
THS

girls in win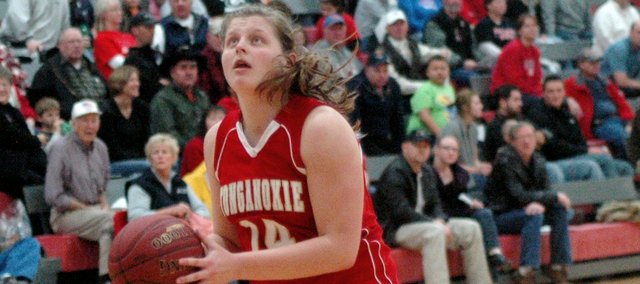 There were times when it looked as though the Tonganoxie High girls hadn't played in two weeks, but the end result was still exactly what the Chieftains wanted.
Katelyn Waldeier scored 15 points and grabbed 15 rebounds for her third double-double of the season, and THS stayed undefeated with a 49-27 win Friday at Anderson County.
"We were really excited to get out and play another game, but we were a little rusty," Waldeier said.
The Chieftains (5-0) jumped out to a 16-6 lead at the end of the first quarter and never looked back. They extended their advantage to 14 at halftime, and the Bulldogs never threatened after the break.
Waldeier got several looks under the basket as THS tried to counter Anderson County's zone defense. She made the most of the opportunity, scoring eight points and grabbing 10 rebounds in the first half alone.
"She's not our only option there, but she definitely draws a crowd," coach Randy Kraft said of Waldeier. "Tonight, we didn't shoot the ball a lot from the outside. We were wanting to get it inside quite a bit against their zone, so she's going to have those big nights."
Jenny Whitledge just missed a double-double with 14 points and nine rebounds. She spent a good portion of the first half on the bench after picking up her second foul. Jaime Mersman led Anderson County with 15 points. She was the only Bulldog to make more than one field goal.
THS will be back in action at 1:30 p.m. Saturday when it plays host to Metro Academy — part of a stretch of three games in five days.
"We're going to have to do what we can for our best chance to win," Kraft said of the quick turnaround. "(Metro) is a little limited like we are in terms of depth, but they didn't have a game Friday, so we'll just have to see how that plays out."
Score by quarters
Tonganoxie 16 10 12 11 — 49
Anderson County 6 6 7 8 — 27
Individual scoring
TONGANOXIE — Katelyn Waldeier 7-12 1-3 15, Jenny Whitledge 6-15 2-2 14, Hannah Kemp 3-5 0-0 6, Madee Walker 1-4 4-6 6, Kara Banks 1-5 4-6 6, Tressa Walker 0-0 2-2 2.
ANDERSON COUNTY — Jaime Mersman 7-11 1-2 15, Amanda Moody 1-2 2-2 4, Cheyanne Ratliff 1-2 0-0 2, Tayler Porter 1-7 0-0 2, Macy Adams 1-9 0-0 2, Paige Scheckel 1-9 0-0 2.