Whitledge erupts as
THS

girls improve to 6-0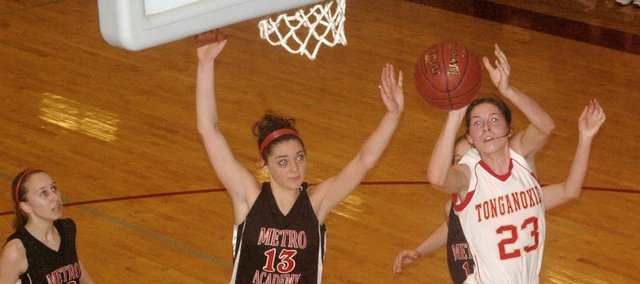 In each of Tonganoxie High's last two games, Jenny Whitledge fell just short of a double-double. In Saturday's visit from Metro Academy, she had one in each half.
Whitledge tied a career high with 28 points and pulled down a school-record 26 rebounds to lead the Chieftains to a 68-46 win Saturday against Metro Academy. The scoring effort matched the 28-point night she had at Turner as a freshman, while the 26 rebounds broke the school record of 22 set by Mary Knipp during the 1977-78 season.
"I felt like that was just going to be what I needed to do today," Whitledge said. "Especially in the second half, I was getting face-guarded, so if I'm not going to score, then I need to do a different job. That's what our coaches always tell us: if you can't do something, go do something else."
Despite playing their second game in as many days, the Chieftains (6-0) had little trouble keeping their undefeated record intact. They scored the first nine points of the game and never allowed Metro Academy to get within two possessions. They they took a 33-23 lead into the locker room at halftime and continued to gradually pull away after the break.
Whitledge, who racked up 17 points and 13 boards in the first half alone, gave the Mavericks fits from the opening tip. She went 12-of-18 from the floor en route to the highest single-game scoring effort by any Chieftain this season.
"Our other kids were playing well, which makes for a bigger threat," coach Randy Kraft said. "We did a good job of getting movement, which allowed creases for Jenny to get in. She did a great job of finding the seams and getting to the ball."
Katelyn Waldeier complemented Whitledge's big game with 15 points and 14 rebounds, giving her four double-doubles in six games. Sajel Spani led Metro Academy with 18 points, all of which came via 3-pointers.
The Mavericks did most of their damage from beyond the arc, combining for nine treys. They finished with 29 attempts — the most by any Chieftain opponent this season.
"We had to defend the 3-point arc and we had to move our feet because there were a lot of one-on-one situations," Kraft said.
THS will have two days off before it welcomes Bonner Springs — a team it lost to three times last season — to town for a key Kaw Valley League matchup. The Chieftains and Braves are both undefeated in league play.
"I'm definitely going to rest up Monday and not really use my legs as much," Whitledge said. "I hope the girls stay off their legs as much as they can because we're going to need them coming into Bonner."
Score by quarters
Metro Academy 11 12 16 7 — 46
Tonganoxie 17 16 18 17 — 68
Individual scoring
METRO ACADEMY — Sajel Spani 6-15 0-0 18, Elizabeth Palmer 4-10 3-4 12, Taris Spani 4-11 0-0 9, Gracie Davis 3-16 0-1 7.
TONGANOXIE — Jenny Whitledge 12-18 4-5 28, Katelyn Waldeier 7-14 1-4 15, Hannah Kemp 3-6 2-3 9, Emily Soetaert 4-11 0-0 8, Madee Walker 2-9 1-4 6, Kara Banks 1-6 0-0 2.