Bonner Springs hands Chieftain girls first loss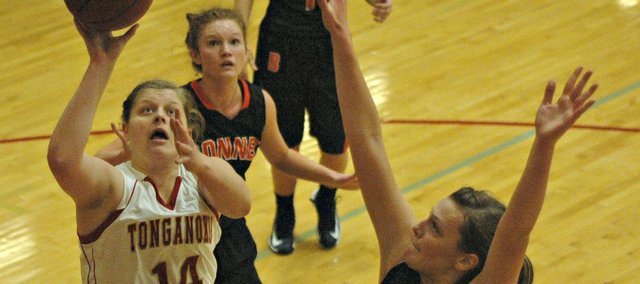 After cruising to a 6-0 start, the Tonganoxie High girls faced arguably their toughest test of the season Tuesday against Bonner Springs. A win was well within reach late in the game, but missed chances and untimely errors proved too costly down the stretch.
The Chieftains nearly erased an 11-point deficit in the fourth quarter, but the Braves recovered down the stretch and handed THS a 49-37 loss on its home floor.
"There wasn't anything we ran or called that we executed very well," coach Randy Kraft said. "Our effort wasn't there and we didn't adjust well, so it was just one of those nights. Hopefully it was a learning experience for us and it won't happen again."
After a low-scoring first quarter, THS (6-1, 4-1 Kaw Valley League) fell behind by nine points midway through the second. They regained their composure and closed out the half on a 9-3 run, making it 23-20 BSHS at the break. Kraft's squad hit two quick shots to briefly take the lead in the third quarter, but those were the only four points they managed for the duration of the period. The Braves (7-1, 5-0) capitalized with 10 straight points to take a 33-24 lead at the end of the third quarter.
Another 9-3 THS run made it a three-point game with 5:51 remaining, but Bonner Springs closed out the game on a 13-4 run of its own to stay perfect in league play.
"This was definitely big," BSHS coach Clay Oakes said. "This is a tough place to play and Tonganoxie is a good team. You know you're going to have to play for 32 minutes and do things right if you want a chance to beat them."
Jenny Whitledge recorded her second straight double-double with 13 points and 11 rebounds. Bonner Springs' Julianne Jackson led all scorers with 16 points and Anna Deegan added 13.
The Chieftains will try to get back in the win column on Friday when they travel to Turner for a 5:45 p.m. meeting. Meanwhile, the Braves will play host to Mill Valley.
"We'll work on our execution," Kraft said. "I think, sometimes, you got into a habit of not having to work very hard at it. In the game that we played tonight, we really had to execute, and we didn't."
Score by quarters
Bonner Springs 8 15 10 16 — 49
Tonganoxie 6 14 4 13 — 37
Individual scoring
BONNER SPRINGS — Julianne Jackson 7-13 2-3 16, Anna Deegan 3-9 7-10 13, Kaleigh Taylor 4-6 0-0 8, Mikaela Bennett 2-5 1-2 5, Abrise Sims 1-5 1-3 3, Kennedy Bizzell 1-5 0-0 2, Haley Hoffine 0-2 2-2 2.
TONGANOXIE — Jenny Whitledge 5-12 3-7 13, Emily Soetaert 3-15 2-2 10, Katelyn Waldeier 3-6 1-3 7, Madee Walker 1-6 0-0 3, Hannah Kemp 1-7 1-3 3, Kara Banks 0-3 1-4 1.