Dominant fourth quarter propels
THS

boys past Braves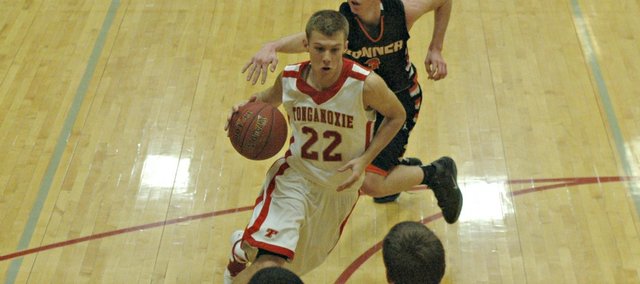 Early in the season, the Tonganoxie High learned what it felt like to see a close game slowly slip out of reach. When Bonner Springs came to town on Tuesday, though, the Chieftains were on the opposite end of that spectrum.
THS had four players in double figures and used a dominant fourth quarter to pick up a 63-50 win against the Braves. The victory was the team's fourth straight and gives them a winning record for the first time this season.
"Our kids competed all the way to the end," coach Shawn Phillips said. "We've seen in other games before where it's been close, then we let the other team go on a run. Tonight, we went on that run and put it out of reach, so I'm happy with that."
The Chieftains (4-3, 2-3 Kaw Valley League) jumped out to a 19-13 lead early in the second quarter, but Bonner Springs (3-5, 1-4) scored the next seven points to go in front. The Braves maintained the one-point advantage for the remainder of the period and went into the locker room up 26-25.
Phillips' squad seemingly regained control and led by as many as eight in the third quarter, but once again, a 7-0 BSHS run turned a potential runaway into a one-possession game. Tonganoxie didn't relinquish the lead this time, though, as it clung to a 45-43 advantage at end of the period.
The fourth quarter belonged entirely to the Chieftains, who shut down the Braves with their zone defense and scored off several costly turnovers down the stretch. Bonner Springs never recovered from the late THS run, and the deficit reached double digits in the game's final minutes.
"We had a lot of mental mistakes that really cost us," Braves coach Dan Streit said. "I thought we played them pretty well, but their 1-3-1 zone, for whatever reason, just threw us out of the game. Once they switched to that zone, we didn't have anybody who wanted to step up and be a shooter. We had guys trying to create on their own, which takes us out of our offense."
Eric Tate led THS with 15 points, John Lean and Jack Dale each had 12 and Blair Mathisen added 10. Austen Twombley led Bonner Springs with a game-high 18 points.
Tonganoxie will hit the road Friday for a KVL clash with Turner, while Bonner Springs will play host to Mill Valley.
Score by quarters
Bonner Springs 11 15 17 7 — 50
Tonganoxie 14 11 20 18 — 63
Individual scoring
BONNER SPRINGS — Austen Twombley 6-17 4-4 18, Logan Terrell 3-12 1-2 8, Jordan Jackson 3-9 0-0 7, Brandon Moore 2-6 3-4 7, Brenden Dotson 2-6 0-0 4, Tyler Howell 1-5 2-2 4, Zshavon Dotson 1-1 0-0 2.
TONGANOXIE — Eric Tate 3-6 8-10 15, Jack Dale 3-10 6-7 12, John Lean 4-6 3-3 12, Blair Mathisen 3-3 2-2 10, James Grizzle 3-7 1-2 7, Ben Johnson 2-7 0-0 4, Jared Sommers 1-1 0-0 2, Tyler Ford 0-2 1-2 1.