Chieftain wrestlers drop dual vs. Spring Hill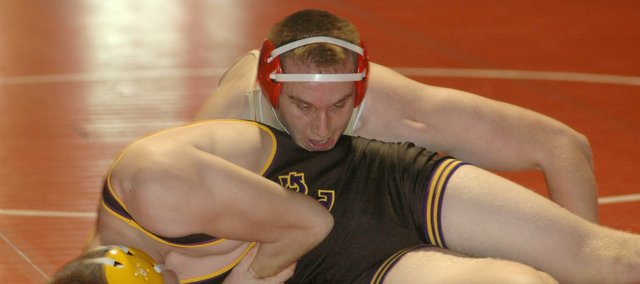 After falling behind by 20 points in its Thursday night dual with Spring Hill, the Tonganoxie High wrestling team roared back for a chance to win in the final match of the night. The late surge wasn't quite enough, though, as it dropped a 44-33 decision on senior night.
Five THS wrestlers pinned their opponents, but the Broncos countered with seven pins of their own to hand the Chieftains their first dual loss since Dec. 5, 2010.
Spring Hill opened with back-to-back wins in the 106 and 113-pound matches, but Clayton Himpel (120) and Dalton Tavis (126) responded with two straight pins to put THS in front, 12-9. The lead was short-lived, however, as the next three Broncos pinned their opponents to go back in front for good.
Asher Huseman (152) pinned his opponent to keep the Chieftains within striking distance, but two more Spring Hill wins put Tonganoxie in a 38-18 hole with just four matches remaining, meaning the team had to win out to take the dual. Luke Carey (182) and Julius Coats (195) each earned pins and Thomas Miller (220) won a 6-3 decision to get THS within five points with one match remaining, but Spring Hill's Austin Pittman closed out the dual with a pin in the heavyweight match.
Coats, Miller, Gus Dent and manager Abby Thomas were recognized in a senior night ceremony prior to the dual.
The Chieftains will have little time to put the loss behind them, as they'll travel Friday to Basehor-Linwood for the annual Bobcat Classic. The two-day, 36-team tournament is set to begin at 11:30 a.m. Competition will resume at 10 a.m. on Saturday.
Individual results
106 — Michael Werlein (SH) def. Connor Yates (TON), 6-2
113 — Cody Slyter (SH) pinned Ethan Phillips (TON)
120 — Clayton Himpel (TON) pinned Patrick Werlein (SH)
126 — Dalton Tavis (TON) pinned Schuylar Duncan (SH)
132 — Tyler Crabtree (SH) pinned Jordan Boudreaux (TON)
138 — Corey Spader (SH) pinned Dylan Yates (TON)
145 — Blake Lewis (SH) pinned Duskin Hull (TON)
152 — Asher Huseman (TON) pinned Caleb Volkman (SH)
160 — Syler Crookston (SH) pinned Alex Kroll (TON)
170 — Blake Hampton (SH) def. Gus Dent (TON), 18-3
182 — Luke Carey (TON) pinned Austin Stork (SH)
195 — Julius Coats (TON) pinned Austin Kettler (SH)
220 — Thomas Miller (TON) def. Dylan Thompson (SH), 6-3
285 — Austin Pittman (SH) pinned Zeke Kissinger (TON)
More like this story