LEAN

ON

ME

: Chieftain boys defeat Turner in

OT

thriller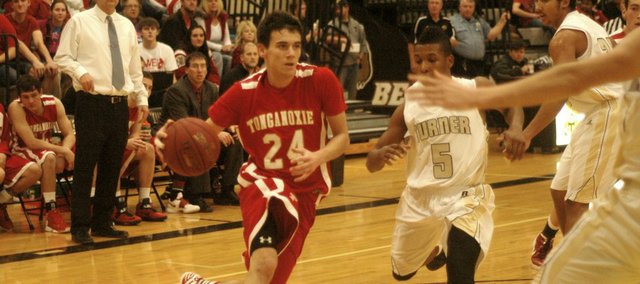 Kansas City, Kan. — Immediately following Tonganoxie High's overtime win Friday at Turner, coach Shawn Phillips referred to his only fourth-year player as John "Big Shot" Lean. Those who witnessed the senior's late-game heroics would be hard-pressed to argue with that nickname.
Lean scored five points in the final 13.9 seconds of regulation to force overtime, and the Chieftains extended their winning streak to five games with a 57-51 victory against the Golden Bears.
Tonganoxie (5-3, 3-3 Kaw Valley League) trailed by four points with time running out in the fourth quarter, but Lean drilled a 3-pointer to make it a one-point game with 13.9 seconds left. Following a free throw by Turner's De'Andre Fenrick, the Chieftains brought the ball to half court and called a timeout with nine seconds remaining. Lean was fouled on his way to the basket and sunk two free throws to force a 45-45 tie with nine-tenths of a second on the clock.
"I was pretty nervous," said Lean, who also hit a game-winning 3-pointer at the buzzer a week ago at Anderson County. "I was just trying to take them like any other free throws, but in the back of my mind, I still knew the game was on the line."
Lean opened overtime scoring with a layup — the last of his season-high 21 points — and the Chieftains outscored Turner (0-8, 0-6) by a 12-6 margin to secure the win. James Grizzle and Tyler Ford each had conventional 3-point plays in overtime.
Neither team could get shots to fall early, as they combined for just 10 points in the first quarter. Turner used a 9-1 run to go in front midway through the second quarter and took a 21-16 lead into the break. Phillips' briefly took the lead in the third quarter thanks to a 7-0 run, but the Golden Bears responded with a 9-3 burst to take a 30-25 lead at the end of the period.
Despite the sluggish start, the Chieftains were at their best when it mattered most. As a team, Tonganoxie scored 32 points in the fourth quarter and overtime period — compared to just 25 in the first three quarters — and went 15-of-18 from the free throw line after halftime.
"Offensively, we didn't make shots in the first half," Phillips said. "Our offense was so stagnant early on, but we finally started to get a little more movement. Our execution in the fourth quarter and overtime was the best it's been all year long in terms of running sets. The guys ran them well and we got buckets. You've just got to keep playing."
Ford joined Lean in double figures with 11 points. Sam Worthy led Turner with 20 points.
The Chieftains have a busy week ahead, as they'll welcome seven teams to their home gym for the 54th annual Tonganoxie Invitational. They'll take on De Soto — last year's tournament champion — at 7 p.m Tuesday.
Score by quarters
Tonganoxie 4 12 9 20 12 — 57
Turner 6 15 9 15 6 — 51
Individual scoring
TONGANOXIE — John Lean 5-18 9-12 21, Tyler Ford 3-7 5-5 11, James Grizzle 3-5 3-5 9, Jack Dale 1-8 5-7 7, Ben Johnson 2-4 0-0 4, Eric Tate 1-1 0-0 2, Jared Sommers 1-2 0-1 2, Blair Mathisen 0-0 1-2 1.
TURNER — Sam Worthy 7-10 6-6 20, De'Andre Fenrick 3-7 10-14 16, Thaddeus Green 3-6 2-2 9, Jarek Smalley 1-1 0-0 2, Andre McCallop 1-1 0-0 2, Lucas Sanders 1-7 0-0 2.