Coats wins title,
THS

wrestlers take ninth at Bobcat Classic
Coats wins 195-pound title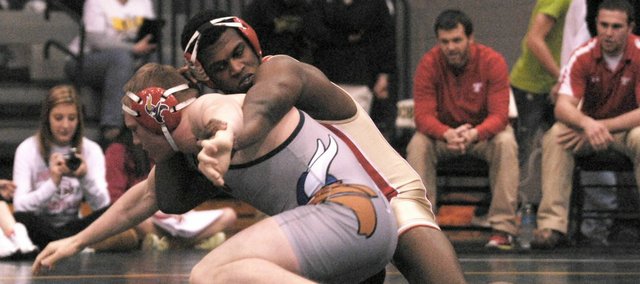 Regardless of the stage, Julius Coats has had no problem reaching the finals this season. However, he's had some trouble sealing the deal in the championship round.
The Tonganoxie High senior finally broke out of his slump over the weekend, and he did so at one of the top tournaments the state has to offer.
Coats went 5-0 and won the 195-pound weight class and led the Chieftains to a ninth-place team finish Saturday at the Bobcat Classic at Basehor-Linwood. After going 4-0 in Friday's competition, the 2012 state qualifier captured his first individual title of the season with a 10-8 victory against Topeka Seaman's Bailey Kelly in the finals.
"It felt pretty good," said Coats, who had finished second in every one of Tonganoxie's tournaments this season. "It felt like all the hard work I've been putting in to win finally paid off, especially at a good tournament."
THS entered Saturday tied for 10th place in the team standings, but racked up 21 points to bring its grand total to 103.5 — the second-highest among Kansas Class 4A schools. Seaman edged out Blue Springs (Mo.) and St. James Academy for the team title with 177.5 points.
Despite missing several wrestlers with various injuries and illnesses, Tonganoxie was the only unranked Kansas school to finish in the top 10. It beat out four ranked schools, including No. 3 Andale (4A), No. 6 Fort Scott (4A), No. 9 Olathe North (6A) and No. 9 ACCHS (3-1A).
"As soon as we get back to 100 percent healthy, that even makes us a little more powerful," coach Jeremy Goebel said. "Looking from the outside in, that's something for the kids to know. When we get people healthy, we'll be able to compete with anyone."
Goebel's squad entered Saturday with seven wrestlers still in the hunt for medals in their respective weight classes. Coats earned the team's only title, but three others secured top-eight finishes. Thomas Miller (220) took fourth, while Clayton Himpel (120) and Asher Huseman (152) came in fifth and seventh, respectively.
Miller won his first match on Saturday to reach the third-place match. Himpel and Huseman each faced elimination in their opening matches on Saturday, but both posted victories and later won their final matches.
"I felt like, in that last round, we finished," Goebel said. "We had a lot of odd-numbered places, which is a good thing. Overall, going up and down the lineup on Saturday, we definitely wrestled hard. That should be a definite motivator to continue to do that."
Connor Yates (106), Gus Dent (170) and Luke Carey (182) also entered Saturday with a shot at medaling, but all three were eliminated from the tournament when they lost their opening matches. Dalton Tavis (126), Jordan Boudreaux (132), Dylan Yates (138) and Duskin Hull (145) competed on Friday, but failed to advance to Saturday's competition. THS didn't have wrestlers at 113, 160 or 285.
The Chieftains will be back in action Saturday at the Gerald Sadowski Invitational at Holton High. THS took third at last year's tournament.
"We'll make sure our kids are ready to get out there on the mat," Goebel said. "With the sickness, all that is going to take its course and we'll eventually have everyone back in the lineup. Do we know when that's going to happen? No, but at Holton, we were a little banged up last year and we went 31-25. Our goal this week is to improve on that."
Overall team results
Topeka Seaman, 177.5; 2. Blue Springs (Mo.), 172; 3. St. James Academy, 168.5; 4. Collinsville (Okla.), 154.5; 5. St. Thomas Aquinas, 153; 6. Junction City, 131; 7. Mountain Range (Colo.), 127; 8. Bonner Springs, 109; 9. Tonganoxie, 103.5; 10. Glenwood (Iowa), 94.5; 11. Platte County (Mo.), 90; 12. Andale, 86.5; 13. Fort Scott, 78; 14. Pittsburg, 74; 15. Baldwin, 67.5; 16. Royal Valley, 62.5; 17. Olathe North, 58.5; 18. Rossville, 54.5; 19. Prairie View, 52; T20. Goddard, 51.5; T20. Shawnee Mission East, 51.5; 22. Turner, 48.5; 23. ACCHS, 45; 24. Oak Park (Mo.), 42; 25. Paola, 38; 26. Columbus, 36; 27. Santa Fe Trail, 30; T28. Chapman, 29; T28. Piper, 29; 30. Basehor-Linwood, 26; 31. Lansing, 24; 32. Clay Center, 21; T33. Eudora, 19; T33. Olathe South, 19; 35. Blue Valley, 17; 36. Lawrence Free State, 14.
THS individual results
106 - Connor Yates 1-2 (N/A)
113 - Open
120 - Clayton Himpel 4-2 (Fifth)
126 - Dalton Tavis 1-2 (N/A)
132 - Jordan Boudreaux 0-2 (N/A)
138 - Dylan Yates 2-2 (N/A)
145 - Duskin Hull 0-2 (N/A)
152 - Asher Huseman 4-2 (Seventh)
160 - Open
170 - Gus Dent 2-2 (N/A)
182 - Luke Carey 2-2 (N/A)
195 - Julius Coats 5-0 (First)
220 - Thomas Miller 4-1 (Fourth)
285 - Open