Tonganoxie girls bounce back with big win at Turner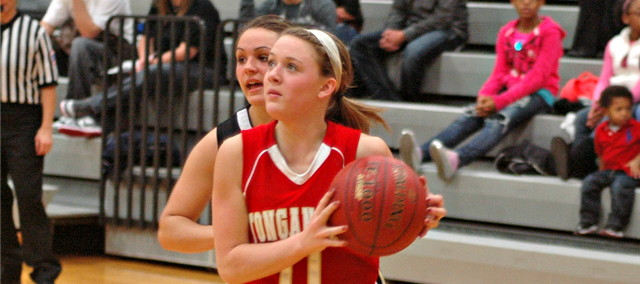 Kansas City, Kan. — With Tuesday's disappointing loss to Bonner Springs still fresh in their minds, the Tonganoxie High girls knew they needed to improve if they wanted to compete with the Kaw Valley League's best. Friday's trip to a struggling Turner squad was hardly a cure-all, but it was a step in the right direction.
Three Chieftains reached double figures as the team got back into the win column with a 58-25 drubbing of the Golden Bears.
"The mood was definitely a little more intense," said Jenny Whitledge, who led all scorers with 15 points. "Everyone was a little heightened and still a little bugged about the loss, but it definitely gave us a lot more motivation to figure out things we needed to work on."
Tonganoxie (7-1, 5-1 Kaw Valley League) raced out to an 18-6 lead at the end of the first quarter and never allowed Turner (0-9, 0-6) to piece together a serious comeback. The lead grew to 19 points by halftime and 25 by the end of the third.
A running clock went into effect when a layup by Whitledge made it a 30-point game early in the fourth quarter. Kraft used the lopsided score as an opportunity to get game experience for his reserves and junior varsity players.
"We want a fast start with everybody we play. It's critical for us, so that's what we're looking to do," Kraft said. "We hoped going in that our varsity kids would take care of business so we could get our younger kids some experience. Some of them actually got in the game pretty early, so hopefully, that's going to pay off."
Emily Soetaert scored 13 points and Katelyn Waldeier added 11 to complement Whitledge's performance. Whitledge and Waldeier just missed double-doubles, as they pulled down nine and eight rebounds, respectively.
"We can be a pretty good team by the end of the year if we can get everybody to step it up," Kraft said. "With the exception of the Bonner game, we've been having one or two step up in different games. Any one of our kids are capable of scoring."
Kraft's squad will return to the friendly confines of its own gym next week for the 10th annual Tonganoxie Invitational, which includes eight teams. The Chieftains will open against Eudora at 6:30 p.m. Tuesday.
Score by quarters
Tonganoxie 18 15 14 11 — 58
Turner 6 8 8 3 — 25
Individual scoring
TONGANOXIE — Jenny Whitledge 7-7 1-2 15, Emily Soetaert 6-10 1-1 13, Katelyn Waldeier 4-7 3-4 11, Hannah Kemp 2-7 0-0 6, Tressa Walker 2-3 0-0 4, Sarah Ahart 2-3 0-1 4, Madee Walker 1-6 2-2 4, Kara Banks 0-2 1-3 1.
TURNER — McKenna Mortell 6-9 1-5 14, Brittany Durham 3-7 0-0 7, Olivia Silvey 1-4 0-0 2, Peyton Peaches 1-4 0-1 2.