McLouth girls fall, boys get final tourney tune-up
Annual tournament to begin Tuesday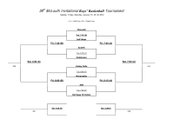 The McLouth High girls are still searching for their first win of 2013 after dropping a 60-23 decision Friday at Delaware Valley League opponent Doniphan West. The Bulldogs (2-7, 1-5 DVL) have dropped three straight games since returning from winter break. They'll try to snap that skid Thursday at Maranatha.
The MHS boys got their third win in four games with a 70-49 victory against DWHS. They led by just seven points at halftime, but took control in the third quarter, in which they outscored the Mustangs, 20-8. Drew Cerny led the Bulldogs (5-4, 3-3) with 22 points, Nick McAferty scored 13 and Dakota Cop and Carter Gish each had 11.
Coach Jason Schroeder's squad will try to continue its recent success at the 26th annual McLouth Invitational, which begins Tuesday. MHS will welcome Jefferson West, ACCHS, Oskaloosa, Valley Falls, Maranatha, Jefferson County North and Heritage Christian to town for its yearly tournament.
The Bulldogs will open their tournament schedule at 7:45 p.m. Tuesday against Jeff West. The championship game is scheduled for 7 p.m. Saturday.