Chieftain girls cruise by Eudora to reach semis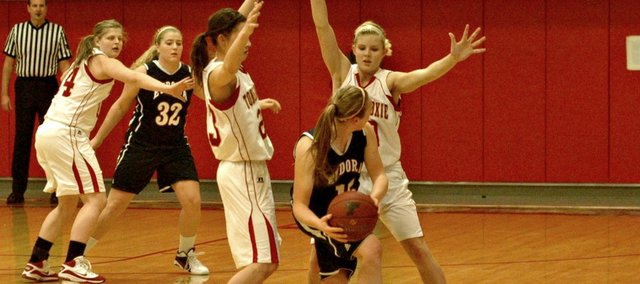 Photo Gallery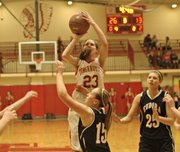 THS girls vs. Eudora
The THS girls easily dispatched of Eudora to reach the semifinals of the Tonganoxie Invitational.
TOURNEY UPDATE
Girls first round scores
De Soto 46, Bishop Seabury 35 (Monday)
Silver Lake 60, Lansing 31 (Monday)
Chanute 57, Atchison 48 (Tuesday)
Tonganoxie 47, Eudora 32 (Tuesday)
Thursday's games
Lansing vs. Bishop Seabury (Consolation 1), 3 p.m.
Eudora vs. Atchison (Consolation 2), 6 p.m.
Friday's games
Silver Lake vs. De Soto (Semifinal 1), 3 p.m.
Tonganoxie vs. Chanute (Semifinal 2) 6 p.m.
A fast start proved to be the only highlight of the Tonganoxie High girls' game against Eudora, but that was all the team needed to earn itself a spot in the semifinals of its home tournament.
The Chieftains jumped out to an 18-2 lead after one quarter and coasted to a 47-32 win in the opening round of the Tonganoxie Invitational.
Any suspense was quickly removed when THS (8-1) opened the game on a 12-0 run to take control early. Eudora (2-9) didn't score its first points until a layup by Allie Webb with 3:26 left in the quarter. The Chieftains followed Webb's bucket with six straight points to cap off the dominant opening period.
The hot start didn't carry over, though, as coach Randy Kraft's team managed just 29 points in the final three quarters combined.
"As good as we were in the first quarter, we were equally as bad in the other three," Kraft said. "Things went well for us early, and then we had a few things that didn't go well for us. We just didn't play through it."
Despite the offensive lull, the Chieftains used a solid defensive effort to keep Eudora from mounting a comeback. They allowed just nine second-quarter points and took a 24-11 lead into the locker room at halftime.
The Cardinals shot just 31.3 percent (5-of-16) and committed 13 turnovers before the break.
"There were a couple times we didn't rotate well, but for the most part, we played pretty well defensively," Kraft said. "We're doing better, but we still gave up some easy ones tonight. We're not getting out of our pressure and getting back sometimes."
Eudora didn't let Tonganoxie run away with the game in the second half, but never got closer than nine points.
Jenny Whitledge and Katelyn Waldeier led the Chieftain with 14 and 12 points, respectively. Webb paced the Cardinals with 11 points.
THS will next face Chanute at 6 p.m. Friday. The Blue Comets trailed Atchison for more than three quarters on Tuesday, but shook the slow start for a 57-48 win.
"I look for a pretty tough game out of them," Kraft said. "I know they can play better than that. They've got a 6-3 girl who could give us some problems and their guards are pretty active, so it should be a really good game."
Score by quarters
Eudora 2 9 12 9 — 32
Tonganoxie 18 6 8 15 — 47
Individual scoring
EUDORA — Allie Webb 5-9 1-1 11, Danelle Topil 3-7 0-0 6, McKenzie Oller 2-3 0-0 4, Madison Maring 2-3 0-0 4, Makaila Garcia 1-5 2-2 4, Emma Beck 1-5 0-0 3.
TONGANOXIE — Jenny Whitledge 5-11 4-9 14, Katelyn Waldeier 5-6 2-4 12, Madee Walker 3-8 1-2 8, Emily Soetaert 2-5 2-2 7, Sarah Ahart 1-1 0-0 2, Kara Banks 1-2 0-0 2, Hannah Kemp 1-6 0-0 2.