Lenahan celebrates 90th birthday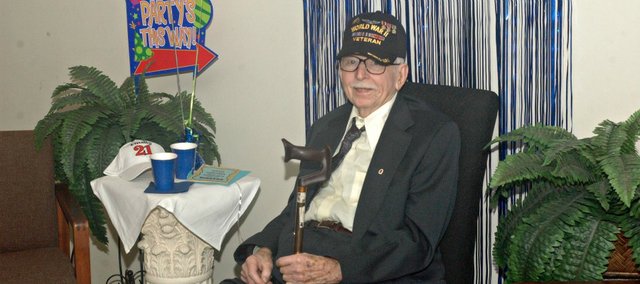 John Lenahan was dressed for a party Sunday afternoon at the Tonganoxie VFW Post Home. In a suit and tie and sporting a World War II veteran hat, Lenahan chatted with well-wishers who helped him celebrate his 90th birthday.
He was the man of the hour — technically two hours — for the afternoon open house.
"In 90 years, you kind of get acquainted with some people," Lenahan said.
Lenahan, who owned Lenahan Hardware in downtown Tonganoxie for 35 years before retiring in 2006, has been a longtime local historian. Born in Tonganoxie on Jan. 13, 1923, Lenahan has written three books about the town's history.
At Sunday's reception, more than 50 people signed the guest book. Mary Gergick, Lenahan's caregiver, said he had received roughly 55 cards total, either sent in the mail or delivered at the reception, as well.
Gergick said it was "an honor" and "a joy" working with Lenahan every day "and his memory is so vivid I say, 'John, you have a better memory than I.'"
Lenahan's wife, Jean, died in 2001, but in the last 10 years they were together, they visited every state except Alaska and Hawaii. They also went to Mexico.
Serving in the military, Lenahan also has been to several other destinations.
"I have wet my feet in four different oceans," Lenahan wrote in "One Life," a five-page history of his life.
John and Jean Lenahan had three children, John Lenahan Jr., Angela Lenahan and Beckie Myers.
Angela Lenahan recalled that when her father owned the hardware store, he was an unofficial greeter for new residents. "I'd always hear stories about people I would meet who just moved to Tonganoxie," she said. "'Oh yeah, I went to his store to buy something and he told me all about the town.'
"He definitely leaves a lasting impression."
Lenahan said he appreciated being able to catch up with people at his open house, which he described as "beautiful."
"I'm really delighted, and I can't think how in the world I could begin to thank the people who got this organized," he said. "I sure appreciate it."
­­— Shawn Linenberger, news editor at The Mirror newspaper of Tonganoxie, can be reached at 913-845-2222.