PUTTING

THE

BADGE

DOWN

: Zoellner retires after 44 years at sheriff's office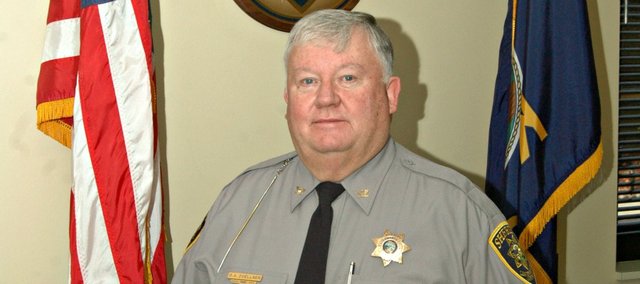 It's been many years since Dave Zoellner first put on a Leavenworth County Sheriff's office uniform.
But for Zoellner, it doesn't seem that long ago.
"It's like it was just yesterday it started," Zoellner said. "It doesn't seem like it's been that long."
He actually worked for eight months as a Leavenworth police officer before he moved over to the sheriff's office in November 1968.
"I knew when I started at the sheriff's office that I wanted to one day work my way up to sheriff," Zoellner said. "Now, I didn't know whether that was going to happen."
In 2004, he made a successful run for sheriff and won re-election in 2008. He decided against a third four-year term.
On Monday, he completed his career as Capt. Andy Dedeke was sworn in as sheriff.
Zoellner, 65, is a lifelong Leavenworth resident and a Leavenworth High School graduate. In addition to working more than 44 years in the sheriff's office, he also worked as an assistant football coach, first at Immaculata High School and later at Leavenworth High.
While at Immaculata, Zoellner helped the Raiders advance one year to the state semifinal game.
"I did it because it was something I loved to do," Zoellner said. "I loved working with the kids."
It offered him an opportunity to give back and, perhaps, balance some of the more difficult parts of working in law enforcement that Zoellner said included "seeing someone I knew really well or coached being booked in or incarcerated in jail. Or seeing a family torn apart because of drug habits or a small child being put in foster care."
As one would assume, the sheriff's department has changed significantly since 1968. Back then, there were eight employees. Now, the department employs more than 100 people. A high point for Zoellner was the move from the former jail to the Leavenworth County Justice Center.
As sheriff, Zoellner prided himself on staying within his budget, he said.
"It was based on need, not want," Zoellner said.
Dedeke agreed.
"Sheriff Zoellner guarded the budget of the sheriff's office like it was his private checkbook," Dedeke said.
Reflecting on the past eight years, Zoellner pointed to several accomplishments: Moving from an antiquated communications system to a digital system, expanding the jail and creating a work release area. The jail and work release changes increased the jail capacity from 157 to 219. He also pointed to establishing a firing range northwest of Tonganoxie on county property as another accomplishment.
"I work around a lot of good people," Zoellner said. "I'm only as good as the people who work around here."
Leavenworth County Commissioner Clyde Graeber praised Zoellner for his work in expanding the jail's capabilities and upgrading the communications system.
"Ours is considered a state-of-the-art communications system for emergency vehicles and he was very instrumental in that," Graeber said. "He worked with Major (Ron) Cranor to get that completed."
Graeber said Zoellner was well-respected in the sheriff's department, which also was an accomplishment.
Zoellner's successor is among those who have high respect for him. Dedeke said Zoellner always was concerned about quality of his people, equipment and investigations.
"I am very grateful for the friendship and tutelage Sheriff Zoellner has provided over the years," Dedeke said. "He is leaving the sheriff's office in a very good position and I, through the extraordinary men and women who work here, intend to build upon his success."
Zoellner said his retirement plans are simple. He wants to spend time with his two grandchildren. "Whatever the wife tells me to do," he said, laughing.