THS

boys fend off De Soto in tournament opener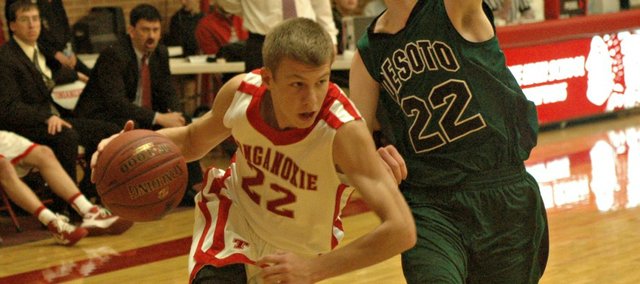 Photo Gallery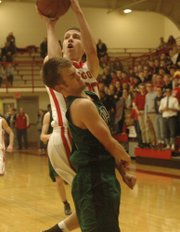 THS boys vs. De Soto
The Chieftain boys held on for a 58-54 win against De Soto in the opening round of the Tonganoxie Invitational.
TOURNEY UPDATE
Boys first round scores
Holton 64, Atchison 50 (Monday)
Lansing 45, Eudora 40 (Monday)
Blue Valley Southwest 67, Bishop Seabury 35 (Tuesday)
Tonganoxie 58, De Soto 54 (Tuesday)
Thursday's games
Eudora vs. Atchison (Consolation 1), 4:30 p.m.
Bishop Seabury vs. De Soto (Consolation 2), 7:30 p.m.
Friday's games
Lansing vs. Holton (Semifinal 1), 4:30 p.m.
Blue Valley Southwest vs. Tonganoxie (Semifinal 2), 7:30 p.m.
The Tonganoxie High boys continued their trend of nail-biting wins on Tuesday with a 58-54 victory against De Soto in the opening round of the Tonganoxie Invitational.
After watching a five-point lead shrink to one with 2:41 left in the game, Eric Tate gave the Chieftains (6-3) some breathing room with a two-point jumper. De Soto (5-5) had a chance to tie the game in the final seconds, but Dalton Verhulst missed the mark on a three-point attempt and the Wildcats turned the ball over in the game's final seconds. Tonganoxie's John Lean knocked down a pair of free throws to make it a two-score game with 10.4 seconds left, and THS held on for its sixth consecutive win.
Close calls have become a way of life for the Chieftains, who have seen three of their last four wins come in the final seconds.
"It builds confidence when you know you've been in games that were close and you've come out on top," coach Shawn Phillips said. "So far, we've been fortunate enough to finish several games that were down to the wire. When you're confident and you do what you're supposed to do, good things are going to happen."
Phillips' squad trailed by one at halftime, 28-27, but opened the second half on a 7-0 run to take a lead it wouldn't relinquish. James Grizzle scored twice in the paint and Jack Dale knocked down a three-pointer to give the Chieftains a 34-38 advantage — their largest of the night.
The Wildcats, who shot 27 three-pointers in the contest, connected on four attempts from beyond the arc in the third quarter. THS had an answer, though, as Dale hit three treys of his own in the period.
"We told our kids that the first couple minutes of the second half were going to be crucial," Phillips said. "We thought our ball screen stuff was working well, so we went right with that. Our guards got in the paint and found guys underneath. After their guys started helping off, we had some kick-outs for open looks from three, and Jack knocked them down."
Tonganoxie took a two-point lead into the fourth quarter and extended it to five midway through the period, then De Soto scored four straight to set up the thrilling finish.
Dale and Grizzle led the Chieftains with 17 and 12 points, respectively. The duo combined for 21 points in the second half. Quinton Verhulst led the Wildcats with a game-high 24 points — 12 of which game from beyond the arc.
With the win, THS advances to the semifinals, where it will face Blue Valley Southwest at 7:30 p.m. Friday. The Timberwolves reached the semis with a 67-35 drubbing of Bishop Seabury.
"We'll go lighter in practice since tournament week is so hard on your legs," Phillips said. "We'll go over scouting report things and work on those. (Blue Valley Southwest) is experienced, they've got talented guys that can shoot the ball and they've got size. It's going to be a tough matchup for us. We're going to have to play well."
Score by quarters
De Soto 11 17 18 8 — 54
Tonganoxie 10 17 21 10 — 58
Individual scoring
DE SOTO — Quinton Verhulst 10-18 0-0 24, Isaac Lueth 3-4 3-5 9, Ryan Stallbaumer 4-5 0-1 8, Dalton Verhulst 3-10 0-0 8, Braiden Turner 1-8 0-0 3, Gage Carroll 1-2 0-1 2.
TONGANOXIE — Jack Dale 5-9 4-4 17, James Grizzle 6-9 0-0 12, John Lean 3-7 2-2 9, Eric McPherson 3-5 0-0 6, Eric Tate 2-3 1-2 5, Tyler Ford 2-6 0-2 4, Blair Mathisen 1-1 1-2 3, Ben Johnson 1-2 0-0 2.