Tonganoxie Invitational returns to
THS
Chieftains out to defend home floor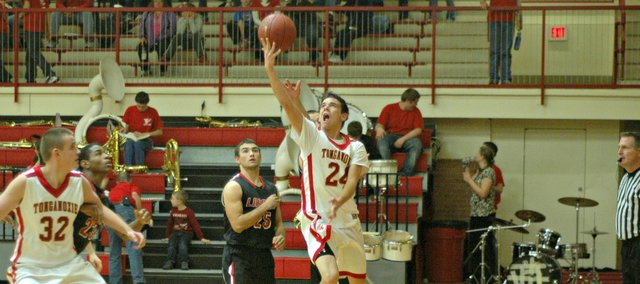 Team capsules
Information on all 16 tournament teams is available here.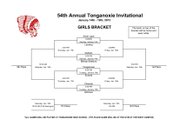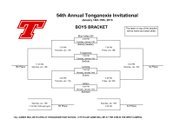 The brackets have been set, the teams have arrived and the wait is finally over. The annual Tonganoxie Invitational basketball tournaments have officially begun.
The Tonganoxie High boys and girls teams have each welcomed seven teams from across northeast Kansas to their home floor for a shot at the gold ball trophy, which will be awarded following Saturday's championship games.
"It's is a great week. I look forward to this tournament," girls coach Randy Kraft said. "I get to see a lot of good basketball. We always have a pretty tough field, so you get to see some good games. The community support is awesome. It's a long and tiring week, but it's a lot of fun."
The girls tournament, which has been played annually since 2004, is comprised of THS, 2012 champion Silver Lake, Lansing, De Soto, Eudora, Chanute, Atchison and Bishop Seabury. Seabury, the only Class 2A school in the tournament, is also the only new addition to the field this season. It replaces Blue Valley Southwest, which took third last season.
Tournament play opened Monday with De Soto's 46-35 win against Seabury and Silver Lake's 60-31 drubbing of Lansing. The Chieftains (7-1), who fell to SLHS in last year's championship game, will square off against Eudora at 6 p.m. Tuesday for a spot in Friday's semifinal.
"This is definitely my favorite tournament," said THS senior Jenny Whitledge, who is playing in her fourth and final tourney. "It's our home court and we're so motivated to get that gold ball. Especially this year, being the seniors' last year, we're going for that gold ball. There's nothing else to it."
Chanute and Atchison will face off in Tuesday's other opening-round game. The girls championship is scheduled for 5 p.m. Saturday.
The boys tournament, now in its 54th year, is made up of coach Shawn Phillips' Chieftains, 2012 champ De Soto, Blue Valley Southwest, Lansing, Eudora, Holton, Atchison and Bishop Seabury.
Just like in the girls bracket, Seabury is the only new team to the tournament. It replaces Silver Lake, which took seventh in 2012.
The boys tournament opened Monday with Lansing's 45-40 win against Eudora and Holton's 64-50 victory against Atchison. The Chieftain boys (5-3) enter the tournament on a five-game win streak and will look to build on last year's fifth-place finish. They'll face a steep test in the opening round, as they'll take on De Soto at 7:30 p.m. Tuesday.
"The Tongie tournament, in general, may be the best tournament you can find around," Phillips said. "There are good teams in there. We're going to face quality opponents. We've won five in a row, but we're going to see where we're really at. We'll see if we can win in a tournament situation against high-quality teams."
Blue Valley Southwest will take on Seabury in Tuesday's other boys game. The title game, which will cap off the tournament, is set for 6:30 p.m. Saturday.
There are no games scheduled for Wednesday. Four consolation games will take place on Thursday, followed by four semifinal games on Friday. Competition will begin at 3 p.m. on both days. Saturdays' schedule will start with the fifth- and seventh-place games at 10 a.m., followed by the third-place and championship games, respectively. The seventh-place games will take place in the west campus gymnasium.
Daily recaps will be available every night at tonganoxiemirror.com. Like us on Facebook or follow us on Twitter for live score updates throughout the week. Use the hashtag #MirrorSports to join the conversation on Twitter.