Chieftain boys can't overcome rough start vs.
BVSW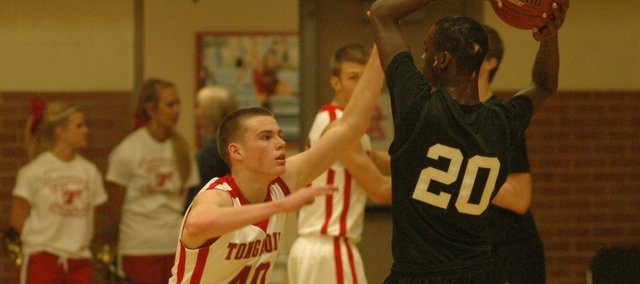 TOURNEY UPDATE
Thursday's scores
Atchison 31, Eudora 30
De Soto 58, Bishop Seabury 25
Friday's scores
Lansing 51, Holton 40
Blue Valley Southwest 57, Tonganoxie 45
Saturday's games
Bishop Seabury vs. Eudora (Seventh-place, west gym), 11:30 a.m.
De Soto vs. Atchison (Fifth-place), 11:30 a.m.
Tonganoxie vs. Holton (Third-place), 2:30 p.m.
Blue Valley Southwest vs. Lansing (Championship), 6:30 p.m.
For three quarters, the Tonganoxie High boys were right on par with Class 5A Blue Valley Southwest. Unfortunately for the Chieftains, though, they were the last three quarters.
THS couldn't overcome an early 15-0 deficit and dropped a 57-45 decision to the Timberwolves in Friday's Tonganoxie Invitational semifinal.
A scoreless first quarter by the Chieftains (6-4) allowed the Timberwolves (8-2) to take a 13-0 lead at the end of the period. The BVSW lead grew to 15 before a put-back by Ben Johnson finally got THS on the scoreboard with 6:11 left in the second quarter.
"We obviously did not come ready to play," coach Shawn Phillips said. "I think a lot of our guys were not quite ready for the situation. We came out very passive, we did not take care of the basketball."
Shots continued to fall as Phillips' squad didn't allow the game to turn into a blowout, but the Timberwolves still took a 27-11 lead into the locker room at halftime.
A 9-2 Chieftain run made it a seven-point game midway through the third quarter, but that's as close as the team could get, as BVSW answered with a 9-4 run of its own to get the lead back to double digits. THS trimmed the deficit back down to eight with two minutes remaining, but the Timberwolves scored seven of the game's final nine points to secure the win.
"The way the first half had gone, it would be real easy for us to just quit playing," Phillips said. "I think it says a lot about the guys that they're willing to keep fighting. I'm glad that we've got kids that want to fight, but we've got to be ready to go from the very beginning."
Colton Miller and Dominique O'Connor led Blue Valley Southwest with 15 points apiece, while Johnson and Jack Dale paced the Chieftains with 12 each.
Third place honors will be up for grabs when Tonganoxie faces Holton at 2:30 p.m. Saturday. The Wildcats dropped a 51-40 decision to Lansing on Friday. The Chieftains met HHS in last year's fifth-place game.
"Hopefully, we don't put this too far out of our minds because we've got to learn that we can't come out flat," Phillips said. "Holton is a tough, physical group that's used to having success. If we come ready to play, it will be a good ball game."
Score by quarters
Blue Valley SW 13 14 15 15 — 57
Tonganoxie 0 11 20 14 — 45
Individual scoring
BLUE VALLEY SW — Colton Miller 6-14 1-2 15, Dominique O'Connor 5-11 4-6 15, Anthony Miller 5-7 0-3 10, Aaron Rogers 3-6 2-3 9, Mark McCafferty 1-1 0-0 2, Donnell Bronson 1-3 0-0 2, Nash Bostwick 1-4 0-0 2, Sam Randall 1-5 0-0 2.
TONGANOXIE — Ben Johnson 5-7 2-4 12, Jack Dale 5-8 1-1 12, John Lean 1-10 5-8 7, James Grizzle 3-5 0-0 6, Eric Tate 2-3 2-2 4, Tyler Ford 2-8 0-1 4.