Late 3 sinks Tonganoxie girls against Chanute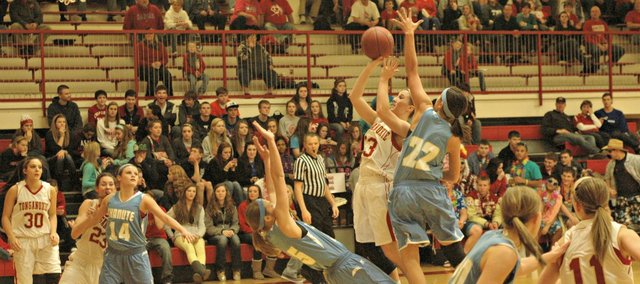 TOURNEY UPDATE
Thursday's scores
Bishop Seabury 39, Lansing 35
Eudora 42, Atchison 33
Friday's scores
De Soto 43, Silver Lake 33
Chanute 40, Tonganoxie 39
Saturday's games
Lansing vs. Atchison (Seventh-place, west gym), 10 a.m.
Bishop Seabury vs. Eudora (Fifth-place), 10 a.m.
Silver Lake vs. Tonganoxie (Third-place) 1 p.m.
De Soto vs. Chanute (Championship) 5 p.m.
A fourth-quarter surge seemingly had the Tonganoxie High girls on their way to the finals of their home tournament, but with one flick of the wrist, those hopes were quickly replaced with disappointment.
Shelby Trout drained a three-pointer with 7.5 seconds remaining to propel Chanute by the Chieftains in Friday's semifinal, 40-39.
THS (8-2) trailed by six points at the start of the fourth quarter, but went on an 11-3 run to take a 39-37 lead with 26 seconds left. The comeback went for naught, though, as Trout connected from the corner on the Blue Comets' next possession for the final three of her game-high 16 points.
The Chieftains had a chance to regain the lead at the buzzer, but a potential game-winning shot by Emily Soetaert bounced off the front of the rim as time expired.
"We played good defense at the end," coach Randy Kraft said. "We forced (Chanute) into a deep three and they made it, then with seven seconds left, we still executed and gave ourselves a chance. We ran it the way we were supposed to run it. We got a shot, so that was big."
Both teams struggled to make shots from the opening tip, as they combined for 98 attempts in the contest. Neither squad managed to gain an advantage until Chanute (10-2) went on a 7-0 run to close out the third quarter.
Kraft's squad answered with five straight points and eventually went in front on a pair of free throws by Madee Walker with 3:06 left. Chanute's Darian Rubow hit a free throw to tie the game in the final minute, then Jenny Whitledge forced a turnover and hit an uncontested layup to briefly give the lead back to Tonganoxie before Trout's dagger.
Whitledge, who battled foul trouble early in the game, led the team with 11 points and nine rebounds. She was the only Chieftain to reach double figures in a game in which THS shot just 30.7 percent (16-of-52).
"We didn't have rhythm in our shots," Kraft said. "You could tell a lot of them were rushed. We've got to relax, but we didn't do that. We just didn't shoot very well."
In a rematch of last year's tournament championship game, Tonganoxie will take on Silver Lake in the third place game at 1 p.m. Saturday. The Eagles dropped a 43-33 decision to De Soto on Friday.
"I told them to go home, get some sleep and get ready for tomorrow," Kraft said. "Silver Lake is a tough team. I think all four teams in the (semifinals) are pretty equally matched."
Score by quarters
Chanute 13 9 12 6 — 40
Tonganoxie 13 9 6 11 — 39
Individual scoring
CHANUTE — Shelby Trout 5-12 3-6 16, Darian Rubow 3-9 1-2 7, Macy Flowers 2-2 1-2 5, Anna Bagshaw 2-8 0-0 5, Brenna Olson 2-10 0-0 5, Katie Martin 1-1 0-0 2.
TONGANOXIE — Jenny Whitledge 5-16 1-3 11, Madee Walker 3-9 2-2 9, Katelyn Waldeier 4-7 0-0 8, Hannah Kemp 2-7 2-2 6, Emily Soetaert 1-8 0-0 3, Kara Banks 1-5 0-0 2.