Chieftain boys overpowered by Holton in third-place game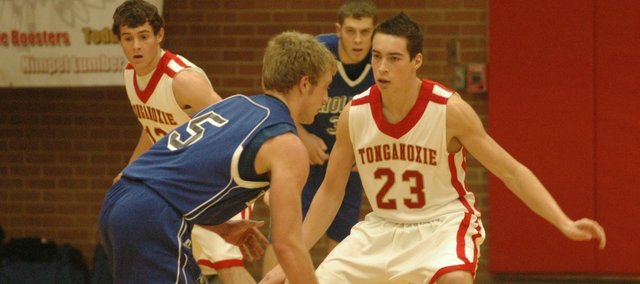 TOURNEY RESULTS
Seventh-place game
Eudora 53, Bishop Seabury 25
Fifth-place game
De Soto 61, Atchison 49
Third-place game
Holton 71, Tonganoxie 56
Championship game
Lansing 52, BVSW 47
ALL-TOURNAMENT TEAM
Tyson Downing, Atchison
Tyler Burdiek, Holton
Trent Tanking, Holton
Andrew Ballock, Eudora
Quinton Verhulst, De Soto
Jack Dale, Tonganoxie
Roy Clayter, Lansing
Clay Young, Lansing
Dominique O'Connor, BVSW
Anthony Miller, BVSW
Most Inspirational Player
Colton Miller, BVSW
Most Valuable Player
Joe Schneider, Lansing
Four days ago, the Tonganoxie High boys opened their home tournament with their sixth-straight win. However, after two losses in the last two days, the Chieftains are back at square one.
THS dropped its second consecutive game on Saturday, falling to Holton in the third-place game, 71-56.
The Wildcats (8-4) came out hot offensively and took a 19-12 lead at the end of the first quarter. The Chieftains (6-5) cut the lead to two points midway through the second, but never managed to take the lead. HHS pushed its advantage back to six points at halftime, 37-31.
Things started to come unraveled for the THS in the third, as the Wildcats' lead grew to 10 by the end of the period. Holton stayed hot for the remainder of the game, extending its lead to as many as 20 in the fourth.
"They were just tougher than we were," coach Shawn Phillips said. "They got a lot of loose balls and they were stronger with it. They're a good team and they showed us we're not at that level. We hoped we'd improved enough that we could compete with some of the upper-echelon teams, but we obviously still have some work to do."
It was the second straight double-digit loss for Phillips' squad, which dropped a 57-45 decision against Blue Valley Southwest in Friday's semifinal.
As a team, the Wildcats went 9-of-16 from beyond he three-point arc. Cameron Karn, Tyler Burdiek and Trent Tanking combined for eight treys and scored 16 points apiece.
"They shot it well from deep," Phillips said. "We gave them some pretty good looks because we couldn't stay in front of people. They got a lot of good looks and they're a good team, so they're going to make those open looks. We've got to be able to defend the basketball."
Eric Tate and Jack Dale led the Chieftains with 14 and 12 points, respectively. Following the conclusion of the tournament, Dale was named to the boys all-tournament team.
Following a six-day break, Tonganoxie will travel Friday to Atchison for its final non-league game of the regular season.
Score by quarter
Holton 19 18 15 19 — 71
Tonganoxie 11 20 11 14 — 56
Individual scoring
HOLTON — Cameron Karn 8-12 0-0 16, Tyler Burdiek 6-10 1-2 16, Trent Tanking 6-11 3-3 16, Garett Beecher 4-6 0-2 12, Trey Tanking 3-7 0-0 7, Ryan Haefke 1-1 0-1 2, Daniel Gordon 1-2 0-0 2.
TONGANOXIE — Eric Tate 5-8 0-0 14, Jack Dale 5-8 3-3 14, James Grizzle 3-5 3-3 10, Ben Johnson 2-3 1-3 5, Tyler Ford 2-4 0-0 5, Jared Sommers 1-4 0-0 3, Blair Mathisen 1-4 1-2 3, John Lean 1-6 0-0 2.