BLHS

senior one of

KU

trumpeters at Inauguration Day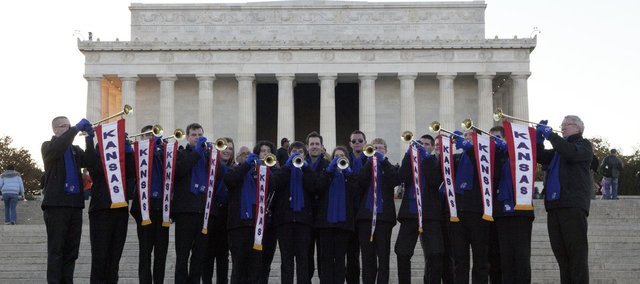 KU Trumpet Ensemble members
Trumpet players:
Janis Porietis, Riga, Latvia, graduate student;
Dr. William Muñoz, Humacao, Puerto Rico, doctoral student;
Nitai Pons, Yauco, Puerto Rico, graduate student;
Stephen Preisner, New Castle, Pa., graduate student;
Peixiang Li, Beijing, graduate student;
Ethan Bartley, Kansas City, Mo., junior;
Marina Hague, Overland Park, junior;
Spencer Merryfield, Shawnee, junior;
Shaina Goodson, Lawrence, sophomore;
Levi Allison, Cherryvale, junior;
Vaughn Miller, Fort Irwin, Calif., sophomore;
Michael Solomon, Boone, Iowa, freshman;
Ben Forshee, Basehor, high school senior;
Michael Raehpour, Andover, high school senior.
Percussion:
Luke Dull, Dayton, Ohio, doctoral student;
Nick Spradlin Springfield, Mo., graduate student.
Bands often spend months raising money and practicing for a trip to Washington, D.C., to perform for the president.
The Kansas University Trumpet Ensemble had 10 days.
For the last week and a half, 16 KU students and two faculty members with the group have rushed to get ready to perform in today's U.S. presidential inaugural parade.
Stephen Leisring, the trumpet ensemble director, said at least one band represents each state in the parade. The group chosen to represent Kansas dropped out 11 days ago, and Leisring jumped at the opportunity.
"It was pretty nonstop," he said. "But one thing I've found is when you want to do something and everyone wants to do it, nothing is impossible."
Within a few days, 16 members of the ensemble had committed to travel to the nation's capital. Leisring and KU Bands Assistant Director Sharon Toulouse began to arrange a version of the state song, "Home On the Range," for trumpets. Ensemble members then got to work.
"We had a three-hour rehearsal Thursday night and two more hours on Friday and a fairly lengthy rehearsal this morning," said Ethan Bartley, a Kansas City, Mo., junior on Sunday.
The group left Friday for a 22-hour bus ride to Washington. Leisring said private donors and the chancellor's office helped foot the bill. The Kansas Athletics department chipped in KU jackets for the occasion. KU banners will also hang from the trumpets.
At 7:30 a.m. today, the group will go through security and get into position for the afternoon parade. The band members have already been cleared by the Secret Service.
The group will be at the end of the first division of the parade, which will begin after the president and vice president are formally inaugurated.
"There's one word — proud," Leisring said of his group's effort and the opportunity. "We are very proud to do it."