EARLY

ARRIVAL

: Schultz baby is 1st of new year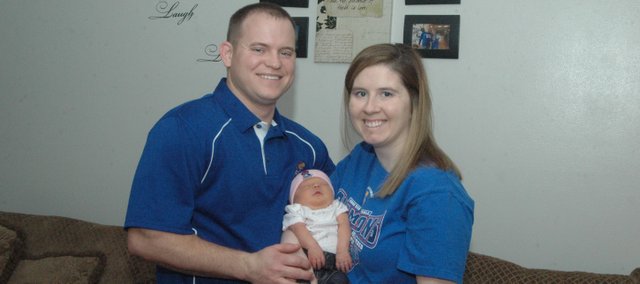 Dustin and Jessica Schultz thought their firstborn was going to be a New Year's Day baby.
"We actually went in on New Year's Eve," Dustin Schultz said about a trip to the hospital. "It was a false alarm."
But last week, another trip proved to be the real thing.
Tinley Erin Schultz was born at 10:41 p.m. Jan. 11 at Olathe Medical Center. She weighed 7 pounds, 2.1 ounces and was 19 inches long.
Tinley was named the winner of The Mirror's First Baby of the Year Contest. The family will receive gifts from several participating Tonganoxie businesses.
Though Tinley was born less than two weeks into the new year, Jessica said even Friday's delivery was about two weeks ahead of the Jan. 23 due date
When it came to picking out a name, Jessica said Tinley just caught her eye.
"I just had seen that name before and thought it was really cute," Jessica said. "Erin is a friend of mine who passed away."
Dustin is a 2002 Tonganoxie High School graduate, while Jessica is a 2005 Basehor-Linwood High School graduate. Though they grew up near each other, they didn't meet until after high school, through family and friends.
Dustin works for Crosby Plumbing Heating and Cooling in Bonner Springs as an operator/plumber; Jessica is a fifth-grade teacher at Basehor Intermediate School.
The Schultzes now live in Tonganoxie, where two other family members welcomed Tinley home. Pomeranians Daisy, 7, and Bentley, 2, have been getting used to the new addition.
Bentley has been pretty protective.
"He watches her all the time," Jessica said. "If she cries he wants to be up next to her to see what's going on."
Daisy has been taking it a little bit harder, because she was Jessica's dog since she was a pup, Dustin said.
Despite Daisy's slight jealously, "they both have been very loving and sweet," Dustin said.
Thursday, the entire family was dressed in Jayhawk garb, including Tinley in pink Rock Chalk attire.
"We've always been huge fans," Dustin said about Kansas University.
Tinley has had plenty of visitors since coming home, as several grandparents live in the area.
Maternal grandparents are Mike and Sandy Crosby, Bonner Springs; paternal grandparents are Larry and Donna Schultz.
Maternal great-grandparents are Joe and Linda Camren, Bonner Springs; paternal great-grandparents are Orvella Schultz, Tonganoxie, and Velva Wasson, McLouth.
Local businesses have donated gifts for the contest, which the Shultzes can redeem at the stores.
"It's awesome that the businesses are generous," Jessica said. "And I'm sure it will all come in handy. We're almost through all our newborn diapers."
Dustin agreed.
"Anything helps," he said.