McLouth softball player signs with Fort Scott
CC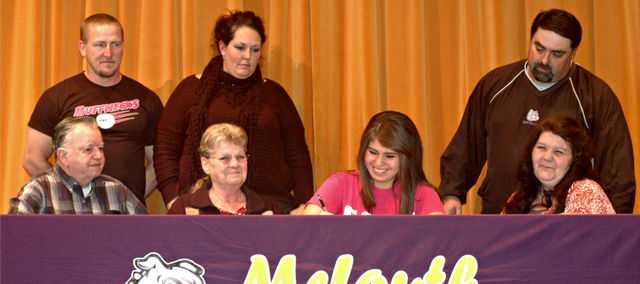 Marissa Raya knew all along that she didn't want her softball career to end after high school. On Friday afternoon, she made sure that wouldn't be the case.
With family, coaches and teammates watching at the McLouth High auditorium, the Bulldog senior signed a national letter of intent to play for Fort Scott Community College.
"It feels really good," Raya said. "This is what I've always wanted to do."
Raya, a regular at third base, has been a mainstay in the Bulldogs' lineup throughout her high school career. In the last three seasons, she's helped MHS to three appearances in the regional championship game and an appearance in the 2011 Class 3A state tournament. She nearly helped erase a six-run deficit in the final inning of last year's regional final against Silver Lake, in which she scored two runs.
The game was played just two days after the unexpected death of her father, Joseph Raya II. According to coach Ballard Patterson, though, Raya never even hinted that she wanted to be away from her teammates.
"That was one of the gutsiest things I've ever had a player do," he said. "Two days after her father passed away, we headed off to regionals. She was there, and I knew she would be. She nearly sent us to state."
Her time on the diamond is hardly limited to the high school season, as she's also a member of the Ruffnecks — a year-round competitive team based in Topeka.
"She's never a kid I have to worry about with preparation," Patterson said. "She's going to take care of her business in the offseason and make sure she's ready to go."
Raya hadn't spoken with any other college programs before Fort Scott, but it was her perennial involvement with the sport that ultimately led to an invitation to play at the next level. Her competitive coach took her to the Fort Scott campus for a tryout, which almost instantly translated to a scholarship offer.
"They said they liked all my mechanics and everything looked good, and I got the call two days later," she said.
When Raya joins the Greyhounds, she said she'll likely play third base, shortstop or second base.
With one high school season remaining, Raya has an opportunity to cement herself in the record book of a program that has produced numerous college athletes. She is on pace to finish in the top-10 in career at-bats, runs and runs batted in.
However, with last year's regional final still fresh in her mind, individual statistics are hardly at the top of Raya's list of priorities.
"We would like to win state this year," she said. "That's our biggest goal and has been all four years I've played. I think we can actually do it this year. We have a lot of momentum going for us."
The Bulldogs, now a Class 2A program, will open their 2013 season March 28 at home against Perry-Lecompton.