Dale's big night powers
THS

boys by Atchison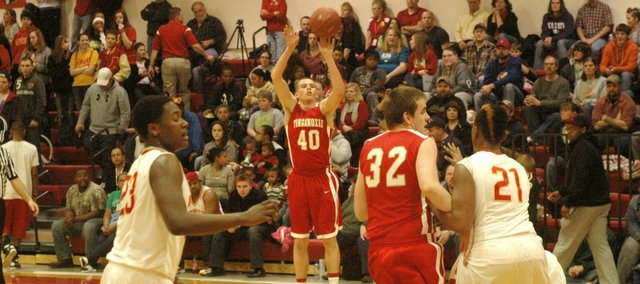 Atchison — Another close game, another victory for the Tonganoxie High boys.
For the fourth time this month, the Chieftains hung on to win a game decided in the final minutes — this one a 60-55 decision in a non-league meeting Friday at Atchison.
Despite leading by nine at the start of the fourth quarter, THS (7-5) had to fend off a late comeback attempt to end its brief two-game losing streak. A 47-38 advantage quickly became a 49-49 tie, as Atchison opened the final period on an 11-2 run that took just 1:59 off the clock. The Chieftains regained their composure, though, and went back in front less than two minutes later.
"Atchison always plays well at home," coach Shawn Phillips said. "We told our kids we had to continue to be strong. It seemed like when they would make runs, it's because we were weak with the basketball."
Phillips' squad clung to a one-possession lead until freshman Jack Dale sealed the win at the free throw line in the final minute. Dale went 11-of-15 from the stripe, hitting five of his final six attempts to cap off a career-best 25-point performance.
"We've been trying to get (Dale) to be more of a threat going to the rim," Phillips said. "He's athletic enough that he can elevate above people and have a chance to finish around the rim. It was good to see him do that tonight. That's part of the reason he shot so many free throws."
Trying to put the Chieftains up by two possessions in the final seconds, Dale came up short on the front end of a one-and-one, but Ben Johnson skied above a pair of Atchison players to grab the rebound. Johnson fired back to Dale, who was fouled again and made it a two-score game with seven ticks left on the clock.
Tyler Ford added nine points and Eric McPherson pulled down a team-best 10 rebounds. Tyson Downing led Atchison with 14 points.
Dale, who now has three 20-point games in his young career, scored 10 in the first quarter alone to help THS to a 14-9 lead at the end of the period. That advantage grew to as many as eight in the second, but Atchison scored the last five points of the half to make it 28-25 Chieftains at the break.
THS seemingly took control when it opened up a nine-point lead on two occasions in the third quarter, but Atchison roared back to set up the tightly-contest finish.
The Chieftains will resume Kaw Valley League play when they travel Tuesday to Lansing. The game against the Lions is the first of four consecutive road games against teams ranked in the top half of the league. Other stops on the road trip include Mill Valley, Basehor-Linwood and Piper.
Score by quarter
Tonganoxie 14 14 19 13 —60
Atchison 9 16 13 17 — 55
Individual scoring
TONGANOXIE — Jack Dale 6-11 11-15 25, Tyler Ford 3-6 1-2 9, James Grizzle 3-3 1-2 7, John Lean 2-3 2-3 6, Eric McPherson 2-2 1-2 5, Blair Mathisen 2-2 0-0 4, Ben Johnson 2-4 0-0 4.
ATCHISON — Tyson Downing 5-14 4-8 14, Blake Dykstra 5-7 0-0 12, Austin Downing 4-11 1-2 11, Jerome Luster 2-4 0-0 5, Jered Ross 2-10 0-2 5, Bret Huntington 1-1 0-0 2, Nick Downing 1-1 0-0 2, Wykeen Gill 1-1 0-0 2, RaShaun Chambers 1-3 0-0 2.