Brutal
KVL

stretch awaits Chieftain boys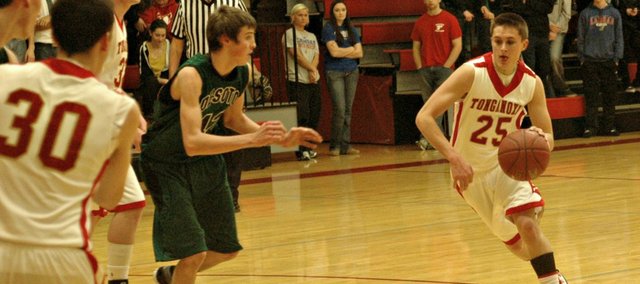 Boys KVL standings
League record, Overall record
Piper, 6-1, 11-2
Lansing, 5-1, 11-1
Mill Valley, 5-1, 10-2
Basehor-Linwood, 4-2, 6-6
Tonganoxie, 3-3, 7-5
Bishop Ward, 1-5, 4-8
Bonner Springs, 1-6, 5-8
Turner, 0-6, 2-10
So far this season, the road has been kind to the Tonganoxie High boys. The Chieftains have ventured away from their own gym four times in 2012-13, and they've returned from each trip victorious.
Over the next two weeks, though, that success will be put to the ultimate test.
THS (7-5, 3-3 Kaw Valley League) ended a brief two-game losing streak Friday with a 60-55 win at Atchison, improving its road record to 4-0. However, starting Tuesday, the team will open a stretch of four straight games against teams ranked in the top half of the KVL. The road trip begins at Lansing and will continue with stops at Mill Valley, Basehor-Linwood and Piper.
"You've got to be able to play well on the road, and we've done that so far," coach Shawn Phillips said. "(Friday's win) got the bad taste of two losses out of our mouths, but we've got to be ready to go. We've got four in a row on the road against all really good teams."
The Lions (11-1, 5-1), who won the Tonganoxie Invitational on Jan. 19, enter Tuesday's meeting as the third-ranked team in Class 5A. They're currently tied with Mill Valley for second in the league standings. They handed the Chieftains a 73-57 loss in the season opener for both teams on Nov. 30.
The 73 points are still the most THS has allowed in a game this season.
"They're really athletic. They've got a few guys that can really play, so we've just got to be better on the defensive end," Ben Johnson said of LHS. "We can score points if we run our stuff, but stopping them is going to be the biggest thing for us."
The Chieftains' trip will continue Friday at Mill Valley — the only league team they haven't faced this season. The Jaguars (10-2, 5-1) currently own a seven-game win streak, highlighted by a tournament title at the Harold Thomas Interstate Classic in Coffeyville.
Next's week's schedule includes stops at Basehor-Linwood (6-6, 4-2), which defeated THS by a 19-point margin on Dec. 14, and current league frontrunner Piper (11-2, 6-1), which cruised to a 17-point win against the Chieftains on Dec. 11. The Pirates are ranked No. 4 in the 4A poll.
Since opening the season with consecutive losses against three of the four teams they'll see in the next two weeks, THS has shown improvement. The team is 7-2 since Dec. 18 with four of those wins coming in the final minute of the game.
"We started off with three really good teams and we hadn't played together for that long," Johnson said. "We started figuring things out, and we've gotten a lot better since then. We grew up as a team."
The upcoming sub-state tournament, to which Tonganoxie will play host, will likely provide extra incentive for continued success. Teams are seeded based on their regular season records, and with Basehor-Linwood and Piper in the Chieftains' tournament field, head-to-head wins could play a significant role in who earns a trip to the state tournament.
"The better record you have, the better off you'll be," Johnson said. "That's what we're really worried about. You always want to win, especially against your rival teams."