THS

girls aim to end slump, keep pace in league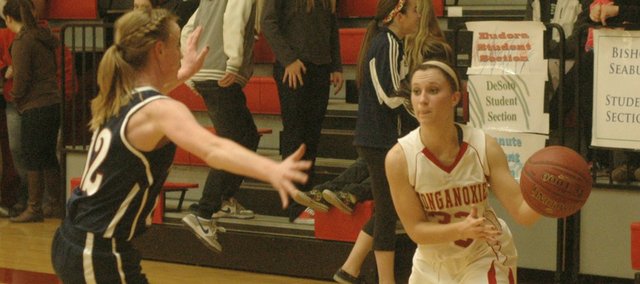 Girls KVL standings
League record, Overall record
Mill Valley, 6-0, 11-1
Bonner Springs, 6-1, 11-2
Tonganoxie, 5-1, 8-4
Basehor-Linwood, 3-3, 5-8
Bishop Ward, 2-4, 4-8
Piper, 2-5, 7-6
Lansing, 1-5, 1-11
Turner, 0-6, 1-11
A three-game losing streak isn't exactly how the Tonganoxie High girls wanted to end their non-league schedule. Consider the team was 8-1 before that stretch, and all three losses came by a combined 11 points, and the frustration continues to build.
The latest loss, Friday's 70-66 defeat at Atchison, came on a night in which THS shot better than 50 percent from the floor and out-rebounded its opponent by 16, but committed 24 turnovers.
"We've played three close games in a row now and lost all three of them," coach Randy Kraft said. "The kids have got to believe in themselves and in each other. We've got to get that turned around as a team."
THS will return to Kaw Valley League play at 5:45 p.m. today at Lansing, opening a four-game road trip that will play a significant role in how the league shakes out. Perhaps more importantly, though, it could ultimately decide whether the Chieftains' season lives into March.
Despite its recent lull, THS (8-4, 5-1 KVL) is still very much in the hunt for a league title. The team enters today's game ranked third in the league, and with trips to Mill Valley, Basehor-Linwood and Piper looming, there are plenty of opportunities to climb the ladder.
"We had that big run at the beginning of the season and we were feeling great, then we started to run into some better teams and hit some road blocks," Hannah Kemp said. "It should motivate us, but at the same time, I think it's getting in everybody's head.
"If we can get our ducks in a row and get these wins, it would be huge."
The Chieftains blasted the Lions, 60-31, in their season-opener on Nov. 30. LHS (1-12, 1-5) has struggled mightily this season, and entered Tuesday on an eight-game losing streak.
Friday's trip to Mill Valley will give Tonganoxie its first look at the only KVL team it hasn't faced. The Jaguars (11-1, 6-0) sit atop the league standings and recently won the El Dorado Lady Cat Classic — part of an eight-game win streak.
Stops at Basehor-Linwood and Piper are on next week's schedule. The Chieftains beat the Bobcats (3-3, 5-8) by 10 points on Dec. 14, but the teams are just one spot apart in the league ranks. The Pirates (7-6, 2-5) are near the bottom of the standings, but challenged THS in a 41-37 Chieftain win on Dec. 11.
The last two games of the road trip will have added significance, as Basehor-Linwood and Piper are both in Tonganoxie's sub-state field. THS will play host to sub-state beginning in late February, and wins against those teams in the regular season could translate to a higher seed and, potentially, an easier road to state.
"As the season wears down, everybody is working toward state," Kemp said. "That's what really matters. These are going to be great games in terms of getting us ready for that final (sub-state) tournament."