THS

wrestlers set sights on key dual with Braves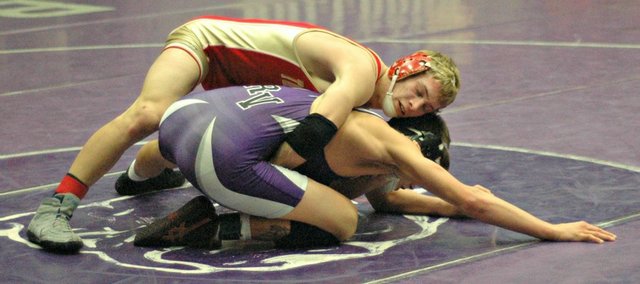 Photo Gallery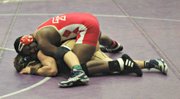 THS wrestling at Baldwin Invitational
The Tonganoxie High wrestling team took second at the Baldwin Invitational with a score of 180.
Ever since the Tonganoxie High wrestlers returned to the mat after winter break, coach Jeremy Goebel has preached the importance of improving regional seeding. As it turns out, this week holds arguably the greatest opportunity to do so.
Fresh off their second-place finish at Saturday's Baldwin Invitational, the eighth-ranked Chieftains will travel Thursday to No. 2 Bonner Springs for their final dual of the season. As if a top-10 showdown between two Kaw Valley League rivals doesn't provide enough incentive, the Braves are among the teams in Tonganoxie's regional, meaning each match will have direct bearing on postseason brackets.
"Right now in the season, every match is important for putting yourself in position to be successful come regional time," Goebel said. "This will be a good dual for us. Our mindset is we've got to get ready for one match. We've got to go out there for six minutes and wrestle."
The dual will feature eight wrestlers currently ranked in the Class 4A poll. For the Chieftains, Julius Coats (195) and Thomas Miller (220) are ranked third in their respective weight classes, while Clayton Himpel (132) ranks fourth and Asher Huseman (152) sixth. Meanwhile, Bonner Springs' Jonathan Blackwell (152) and Aaron Puckett (160) sit atop the polls, while Josiah Season (106) and Justus Seaton (113) rank second and third, respectively.
Bonner Springs was in action Saturday at the Osawatomie Invitational, where it placed fifth.
The Chieftains and Braves last saw each other at the Bobcat Classic on Jan. 12 at Basehor-Linwood. BSHS finished eighth at the tournament, while THS took ninth. They were the top two finishers among Kansas 4A schools in the tournament. Thursday's dual is the first of three remaining meetings between the two teams, but the only time they'll wrestle head-to-head.
"It's pretty important to go out there and make a statement that we can compete with the best teams in 4A," Coats said.
Coats enters the dual on an eight-match win streak. He and Miller each won individual titles Saturday in Baldwin. Huseman also reached the finals, but fell in the championship round.
As a team, the Chieftains had nine wrestlers earn top-eight finishes, including five who won their final matches. They went a combined 25-17 and racked up 180 points. No. 10 Holton won the tournament with a score of 221.
THS won't resume tournament action until Feb. 9 when it travels to Lansing for the KVL tournament — its final action before regionals.
"Coming into the end of the year, you've really got to push through," Miller said. "With league and regionals coming up, this is the right time to peak. We've got to keep the intensity up and keep bringing it every day."
A live webcast of Thursday's dual will be available at tonganoxiemirror.com. Action will begin at 5:30 p.m. with junior varsity and kids club matches. The varsity dual is scheduled for 6:45 p.m.