Late surge propels
THS

wrestlers by No. 2 Bonner Springs
Chieftains win final five matches to take dual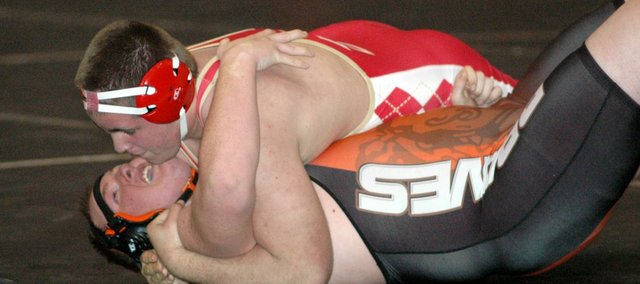 Photo Gallery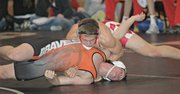 THS wrestling at Bonner Springs
The eighth-ranked Tonganoxie High wrestling team earned a 34-27 win in a dual Thursday at No. 2 Bonner Springs.
Bonner Springs — It's been three weeks since Zeke Kissinger last wrestled for Tonganoxie High. Kissinger returned to the mat Thursday for the No. 8 Chieftains' dual at Bonner Springs, and the result couldn't have been much better.
Kissinger earned the team's only pin in the final match of the night, securing a 34-27 win against the second-ranked Braves.
The teams split the first six matches of the dual, but pins by Josiah (106) and Justus Seaton (113) gave BSHS a 15-11 lead. The Braves won the next three matches, including a pin by top-ranked Aaron Puckett (160), to extend their advantage to 27-11.
A 13-5 win by Gus Dent (170) gave THS some momentum and ignited a stretch of four straight wins, which gave the Chieftains a one-point lead with only the heavyweight match remaining. Kissinger, who was pinned in a similar situation against Spring Hill on Jan. 10, secured the win when he pinned Bonner Springs' Les Wessel with eight seconds left in the first round.
"It was great to be back," said Kissinger, who missed the last three tournaments with a shoulder injury. "I was just trying to make sure I didn't screw up, and I tried to exploit (Wessel's) screw-ups for my benefit."
With the win, THS finishes its dual schedule with a 3-1 record.
Coach Jeremy Goebel commended the effort throughout the line-up, as several wrestlers battled for extra points late in their matches to increase the overall team score.
"There are points in every match you can pinpoint that helped us, just little things here and there," Goebel said. "When we lost, we really didn't lose. I thought the kids' mat savvy was awesome in terms of knowing where they were at in the match."
The teams will see each other twice more this season — once at the Kaw Valley League tournament on Feb. 9 at Lansing, then again at regionals on Feb. 15-16 at THS. Bonner Spring will travel Saturday to Wyandotte for the WYCO tournament, while Tonganoxie is off until the league tournament.
"It's a much-needed weekend, and it's great to end this week on this note," Goebel said. "(BSHS coach Brandon) Jobe does a great job, and I know they're going to be ready to go the next three weekends. For us, that's going to push us that much more."
No. 8 Tonganoxie 34, No. 2 Bonner Springs 27
106 — Josiah Seaton (BS) pinned Connor Yates (TON)
113 — Justus Seaton (BS) pinned Ethan Phillips (TON)
120 — DJ Ballard (BS) def. Garrett Martin (TON), 5-2
126 — Jordan Boudreaux (TON) def. Kolbe Seaton (BS), 11-3
132 — Clayton Himpel (TON) def. Coltin Bulkley (BS), 9-0
138 — Dylan Yates (TON) def. Dominic Salvino (BS), 19-6
145 — Bryan Lanning (BS) def. Seth Wolf (TON), 4-0
152 — Jonathan Blackwell (BS) def. Asher Huseman (TON), 9-3
160 — Aaron Puckett (BS) pinned Alex Kroll (TON)
170 — Gus Dent (TON) def. Jacob Folsom (BS), 13-5
182 — Luke Carey (TON) def. Patrick Ballard (BS), 11-5
195 — Julius Coats (TON) won by default
220 — Thomas Miller (TON) def. Johnathan Carter (BS), 10-2
285 — Zeke Kissinger (TON) pinned Les Wessel (BS)
*Tonganoxie forfeited one point due to unsportsmanlike conduct.