Tools of technology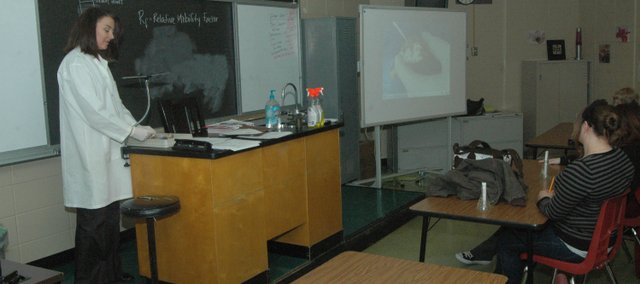 Tonganoxie High School English teacher Sherrie Evans wrote a temporary school schedule change on her chalkboard a few weeks ago.
She told students they could copy down the information if they wanted.
"Fifteen kids whipped out their iPhones and took a picture of it," Evans said during a recent school board meeting. "I have that capability, too. I could take a picture of that, but I didn't think of that yet."
Evans, though, is using more technology in her classroom these days.
Evans and Christine Biel, a THS biology and science teacher, spoke to the board about new technology they're using.
The instructors have been using classroom iPad packages since December — a 16GB iPad2, Apple TV and a bracket that allows the teachers to use the iPad as an overhead projector.
Evans said students were impressed with the new educational tools.
"I think that's important to be one step ahead of the kids," Evans said. "And for them to feel like they're learning something the way they learn instead of throwing another worksheet at them. Although those are necessary sometimes, too."
David Milhon, USD 464 technology director, said the teachers were "guinea pigs" for using the equipment.
There are six classrooms either utilizing or soon to be utilizing the iPads in the district — world history and leadership teacher Scott Peavey at the high school, math teacher Stacy McElderry at the middle school, and art teacher Kristin Robbins and second-grade teacher Kyla Sandhoefner at the elementary school.
"We need to learn just like they do what it takes to get all this set up," Milhon said.
The school board approved a plan for an estimated $301,455 for technology projects at its Jan. 14 meeting. That includes replacing 196 student laptops and 68 staff laptops, adding 20 high-density wireless access points and updating wireless control software.
Expanding the iPad presence for teachers, 150 iPad2 16 GB are part of the plan, as well as 115 additional brackets, adaptors, speakers and Apple TVs. The Apple products are expected to take up more than a third of the project at $112,665. If a financing plan is approved at the Feb. 11 meeting, Milhon said teachers could have their iPad tablets in time for an April 19 inservice day.
For teachers given the opportunity to take the tablets for a test run, the tool has been a plus.
Evans said she likes having more interaction with the students and "no longer being tied to a podium or a computer."
The tablets allow for more mobility, she said. And with the tablets connected to the Apple TVs, whatever is on the iPad tablet is projected onto a screen in Evans' room.
"It's difficult for them to tune you out when you're right in front of their faces," she said.
Evans is looking forward to lesson plans that are geared toward the tablet, as well as interaction with a former student that will be made possible through the new technology.
Michael Christensen, a 2012 THS graduate now enrolled at the New York Conservatory for Drama, is studying "Macbeth" and "Hamlet."
One of Evans' classes is studying "Macbeth," and she plans to use Facetime with Christensen. During the class, Christensen will be able to interact with the group from New York City.
Biel, meanwhile, is learning to do more with her iPad in science and biology classes.
"I have an iPad at home, but we kind of just play on it," she said. "I never really looked at it from an educational point of view. I'm excited."
There's a Flashcard application, which Evans also uses, that Biel has set up. Students can connect with their phones to Biel's information to review and study for tests.
"All of my paper stuff," Biel explained, "you put reviews on 3-by-5 index cards. Now they're totally obsolete."
She said that the camera on the iPad also is handy for dissections.
"I can talk and video record, and point everything out," she said, noting that she might also use the video record function to pre-record material substitute teachers can use when she can't be there.
"It will totally change the teaching industry for districts that have enough money to give teachers this technology," Biel said. "I can't believe I'm a fan."
One of Biel's students, junior David Falk, said he liked that the tablet enhanced dissection lessons.
"It's really handy," he said. "Before, you would have to crowd around a dissection animal while she was working. You don't have to crowd around (with the tablet). You get the view you need."
Technology certainly has changed teaching. As Evans pointed out, this year's seniors were born in the mid-1990s. They haven't known a world without cellphones.
"It is amazing to me, even the kids who maybe don't come from the strongest economic households, they have an Apple product, whether it's the iPod Touch or the iPhone," she said. "They have some sort of an Apple product."
There could be a day when tablets are in the hands of the students as well, but when that will be is uncertain for now.
"It's not something for next school year, but it's definitely something we're looking at," Milhon said.