Service dogs graduate from Paws program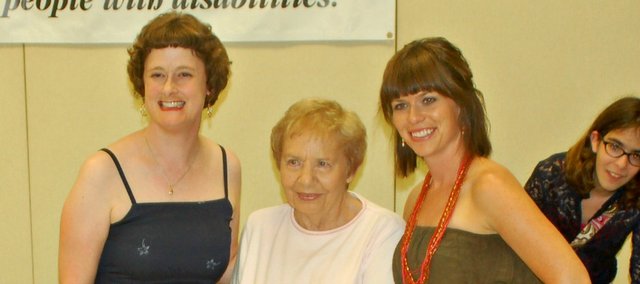 Overland Park — The traditional graduation season came to a close in late May, but a slightly different commencement took place over the weekend at an Overland Park church.
Paws for Freedom, a Leavenworth County-based nonprofit service dog training organization, capped off a two-week training session with the graduation of two dogs Saturday at Rolling Hills Presbyterian Church. The ceremony marked the end of multiple years of training for Gracie and Harper, a pair of black labrador retrievers now officially moved in with their permanent families.
"Once a year, we have this two-week training camp for the people who are going to get the dogs," said executive director Lee Ann Shearer, who founded the organization out of her home between Tonganoxie and Basehor in 2005. "The first week is all about teaching the recipients how these dogs have been trained. They hear about it, then they get to do it."
During the first week of training, soon-to-be recipients alternate between training discussions in a classroom setting and hands-on training practice. The second week of camp incorporates public outings, including trips to local businesses.
A graduation ceremony took place Saturday, and Harper and Gracie's leashes were officially handed over to their new owners. Harper moved to Maryland with Ryan Wess, while Gracie stayed local, moving to Olathe with Pat Portsche.
Shearer said a previous recipient is invited to each graduation ceremony to share about their daily life and how their dog has helped. This year's guest speaker, Diana Stocksdale, received her dog, Gibson, in 2012.
Service dogs begin training when they are 8 weeks old and normally graduate around age 2. All of the dogs currently at Paws for Freedom are black or yellow labs, but Shearer said golden retrievers are also a popular breed.
"They're very eager to please and they're well received in public because they have a soft, friendly face, and they're not too big or too small," she said.
Paws for Freedom currently has a partnership with Horizon Academy, a private school in Roeland Park for students with learning disabilities. Students in grades seven through 12 are eligible to join Student Trainer And Retriever Teams — also known as START Club — where they work with dogs in the training facility, as well as in public settings.
Shearer plans to relaunch a volunteer program this fall in Tonganoxie. A similar program took place last spring. Volunteers who complete the program are eligible to train, groom, bathe and play with dogs, as well as take them on public outings. Anyone interested in volunteering can contact Shearer at info@pawsforfreedom.org.