Tonganoxie K-7 baseball sweeps Lansing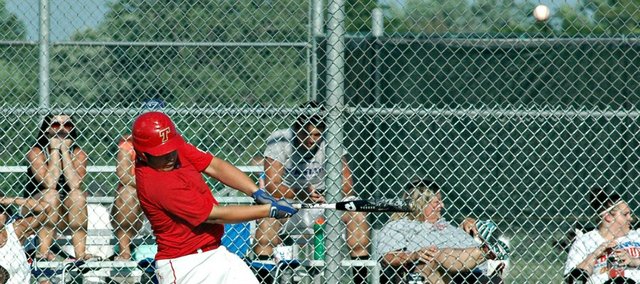 Lansing — The first time the Tonganoxie K-7 baseball team lost this season, it responded with a five-game win streak. The team suffered its second defeat last week against Turner, but once again, it bounced back in a big way.
Tonganoxie (9-2) cruised to a pair of five-inning shutouts in a sweep at Lansing, winning 8-0 and 6-0.
"This was our best overall night," coach Mitch Loomis said. "It was just total package on offense and defense. They're really starting to embrace what's in front of us, and it's fun to watch. All we can do is play the game ahead of us."
After a scoreless first inning in the opener, Justyn Leslie put the team on the board with a two-run single in the second. Tonganoxie blew the game open with a five-run third, which included RBI singles by Leslie and Thomas Minor. Colten Weaver capped off scoring in the fourth, crossing the plate when Travis Woods grounded into a fielder's choice.
Brady Swedo got the win on the mound, going the distance in the shortened game. He escaped a bases-loaded situation in the third inning, but avoided any real danger the rest of the way.
That momentum carried over into the second game, as Tonganoxie grabbed a 2-0 lead in the first inning. Weaver drove in Swedo with a single and Woods scored on an error to give Tonganoxie a lead it wouldn't relinquish.
Leslie doubled the lead in the third when he drove in his fourth run of the day, then scored on an RBI triple by Connor Wentz-Hall. A Ty Hampton single scored Woods and Weaver came around on an error to close out scoring in the fourth.
Wentz-Hall gave Tonganoxie another complete-game shutout, allowing just three hitters to advance past first base in five innings.
The sweep sets up a pivotal game Wednesday against Shawnee-Midland Academy at the Leavenworth County Fairgrounds. Midland entered Tuesday with a 1.5-game lead over Tonganoxie in the league standings. The teams split a doubleheader on June 11 in Shawnee.
"We're excited for it," Loomis said. "We want to put ourselves in position to play for championships in the spring, and you've got to practice at it. This is a good opportunity and a good team."
Game 1
Tonganoxie 025 10 — 8
Lansing 000 00 — 0
Leading hitters: Justyn Leslie 3-3, 3 RBI; Thomas Minor RBI, Travis Woods RBI, Ty Hampton RBI, Connor Wentz-Hall RBI.
Game 2
Tonganoxie 202 20 — 6
Lansing 000 00 — 0
Leading hitters: Connor Wentz-Hall 2-2, 3B, RBI; Colten Weaver 2-2, RBI; Justyn Leslie 1-3, RBI.