Samuels: Royals midseason report
On expectations, disappointment and hope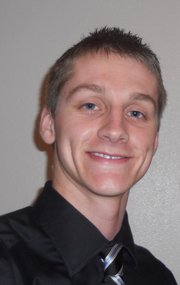 — Editor's note: Hunter Samuels is a 2005 graduate of Tonganoxie High who currently lives in Omaha, Neb. He is a writer for Kings of Kauffman, a Kansas City Royals blog powered by the Fansided Sports Network. Samuels recently took time to assess the first half of the Royals' 2013 season, as well as what could be in store for the franchise in the near future.
I came into this Kansas City Royals' season with higher expectations than I have had in any other season since I started closely following the team as a child. I wasn't predicting the Royals to make the playoffs – which makes my previous statement incredibly depressing – but playing meaningful baseball in September and finishing with a winning record for the first time in a decade didn't seem too unrealistic.
And then, May happened.
The 8-20, month-long tailspin tore down the solid start to the 2013 season, and the team seemed to be destined for yet another 90-loss season under General Manager Dayton Moore. Of course, as is often shown in baseball, a team is never as good as their best stretch, and they're never as bad as their worst stretch. The Royals followed up that atrocious May with a 16-11 June, and a roughly .500 July so far, putting them just a handful of games behind Detroit and Cleveland, sitting in third in the American League Central with the All-Star break just a few days away.
How did the Royals get here?
The generally accepted assumption coming into this season was that James Shields and Ervin Santana would bolster an improved rotation. That assumption has been proven to be correct, and the starters have been even better than anyone could have expected. The bullpen has been as excellent as advertised, with closer Greg Holland putting up numbers that aren't even allowed in most video games. (How he wasn't named to the All-Star team is a complete and total mystery to me.) Kansas City's defense is arguably one of the best in baseball, if not the best, as it has helped the pitching staff allow the fewest runs in the AL.
With the way the offense has performed, the pitching needed all the help it could get.
The Royals' offensive production has ranged somewhere between bad and historically awful. First of all, the lineup is mostly devoid of any real home run power. That problem is compounded by the team's lack of players capable of drawing walks, meaning they don't get enough runners on base. Needless to say, the
Royals have struggled to score runs this season. Eric Hosmer has finally started to heat up after an ice-cold start. Mike Moustakas has been even worse than Hosmer, with a couple of mini-stretches of success thrown in. Jeff Francoeur and Chris Getz were finally shipped out of town after putting up putrid offensive numbers once again, but a lot of damage had already been done. Elliot Johnson has shown why he was only the player to be named later in the Shields/Wil Myers trade. Sure, David Lough, Jarrod Dyson, Miguel Tejada and George Kottaras have been pleasant surprises in their part time roles, but other than Salvador Perez, Billy Butler and Alex Gordon, this offense has been downright anemic. And even those three big bats have had stretches of poor play.
Yet here the Royals sit, still within earshot of the Tigers, with a couple of weeks to go before the July 31 trading deadline. When Pedro Grifol, and some guy named George Brett, took over the hitting coach duties, many hoped Dayton Moore had found a solution to the offensive woes. The Brett-as-hitting-coach era got off to a bit of a slow start, but some players may be starting to turn things around. Now don't get me wrong, this team still does not have enough firepower to really push Detroit for the division title. Right now, it probably doesn't even have enough to surpass the Indians for second place.
However, it does have some assets it could move to acquire a big impact bat, or maybe two slightly lesser impact bats. I'm terrible at coming up with hypothetical trade scenarios, so I won't bore you with the details, but there are teams with above average offensive players who would fit in very nicely in this lineup. Also, while the rotation has been great, Bruce Chen is not a pitcher a team with hopes of reaching the playoffs should be trotting out every fifth day. There may be replacements already in the organization (Danny Duffy, Will Smith, Yordano Ventura, Felipe Paulino, to name a few), but I wouldn't be surprised if Moore looks to grab another arm before the month is over. If the Royals continue to hang around the race, some moves will need to be made to give the team a true shot at contention.
As a Royals fan who was born a year after the franchise's last playoff appearance, I think it's fair to say I desperately want to see winning baseball in Kansas City this season. Though I don't have much faith that this front office is capable of pulling the right strings to make that happen, I can't help but let my mind (and my heart) wander to thoughts of sitting in the stands at Kauffman Stadium on a cool October evening. Screaming at the top of my lungs as Shields toes the rubber. Cheering as loud as possible as Butler rounds the bases. Giving random strangers in blue shirts high fives and hugs. Because if (when?) that moment happens, all of my predictions, analyses, biases and criticisms won't mean a thing. And that's a moment I cannot wait for.