Tonganoxie now city of second class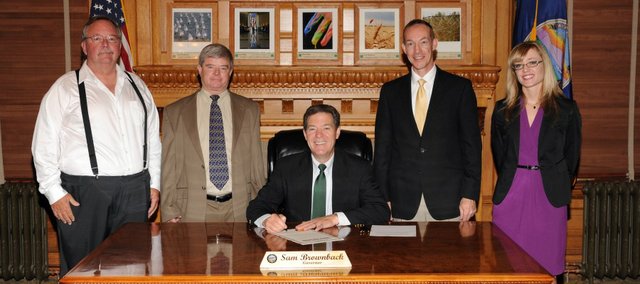 Tonganoxie officially has a new status, and with it comes decisions: What kind of city government should the growing city have? Wards or at-large elections? Elected or appointed city treasurer?
For now, city council members have decided to keep the governing structure as it is, with the option to change in the future if the need arises.
The city's latest population numbers show the community has 5,065 residents, which means it is now a city of the second class. Cities with fewer than 5,000 are classified as cities of the third class, while communities with populations of 15,000 or more are cities of the first class.
City officials have been discussing how to proceed as a city of the second class for the last several months, holding public forums to discuss the potential changes. But the council is looking to retain the city's current governing practices and organization through charter ordinances. that would exempt the city from changes ordinarily required of cities of the second class.
At Monday's meeting, the council had the first reading for three ordinances aimed at exempting the city from:
• Electing a city treasurer. Currently the city treasurer is determined by mayoral appointment. Jan Ferguson, who is employed at First State Bank and Trust, is the treasurer. But City Administrator Nathan McCommon said the appointment is procedural. It comes with no responsibilities or pay.
"There's no practical function," McCommon said. "The appointment is merely an appointment. Tonganoxie's so small, it certainly wouldn't be a full-time job."
McCommon said that his duties include the role of treasurer.
"Tonganoxie would probably need to double its size before it had a position performing that specific role, based on demand," he said.
• Requiring a public vote to issue bonds longer than 10 years for repairing or resurfacing certain streets.
As a third-class city, towns have been required to have a public vote to issue bonds longer than 10 years. "Overall, including this item, the council is looking to maintain the governing structure as it is now," McCommon said.
• Changing its governing body from an at-large council to four equally populated wards.
The decision about whether to move to wards has received the most discussion. Most council members favored the current system, citing current apathy. Of three council members who ran for election in April, none was contested.
Council member Chris Donnelly was a proponent of wards because of the city's increasing size.
"Right now it works really well, but 10 years from now, what's it going to be?" Donnelly said during a March meeting. "Or eight years from now."
The city can opt to move to a ward system in the future.
A two-thirds vote of the council is required for the ordinances, which will be taken during the second reading of the ordinances at the July 22 meeting.
Residents can voice opposition to the charter ordinances. There is a 60-day protest period that will begin after the city publishes the ordinances in the coming weeks.
A successful protest petition would require valid signatures that equaled at least 10 percent of voters in the last city election.
The last city election was in April when 87 people voted. That means nine valid signatures would be needed for the protest petition, said Leavenworth County Clerk Janet Klasinski.
A successful protest petition would leave the city with a decision: adopt the charter ordinances or put the measures to a public vote.
Although the council makes several decisions in how to proceed as a city of the second class, a change from city administrator to city manager would require a public vote.
As for elected officials' compensation, council members receive mileage reimbursement, but basically are not paid for serving: They receive $1 annually for their service. The topic came up during city of second class discussion, though no decisions were required. Still, council members opted to keep the positions volunteer.
McCommon researched various cities of second class for a cross-section of compensation. He said monthly pay ranged from no compensation to $655 for mayors and no compensation to $425 for council or commission members. The average compensation was $255 for mayors and $160 for council or commission members.
City officials met recently with Gov. Sam Brownback for a proclamation ceremony at the Statehouse in Topeka to recognize the new classification.
McCommon, as well as council members Jim Truesdell and Bill Peak and Assistant City Administrator Jennifer Jones-Lacy attended the ceremony.
Peak said he and Truesdell both received copies of the proclamation, as did the city. Peak said he planned to give his copy to the Tonganoxie Community Historical Society.
"A lot of it was ceremonial because of the population growth," Peak said. "It was fun to go to the capitol and be involved in that."