K-7 baseball comes up short in series finale
Loss to Turner caps off 10-4 season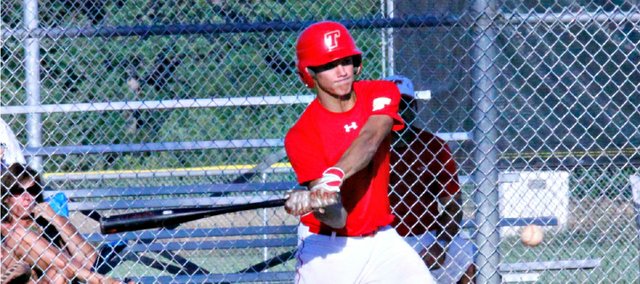 The Tonganoxie K-7 baseball had plenty of opportunities to end its summer on a high note, but when the final out was recorded, the team found itself one run short.
Tonganoxie nearly erased a 4-0 deficit in Wednesday's finale against Turner, but couldn't generate any late offense in a 5-4 loss at the Leavenworth County Fairgrounds.
Fresh off a 6-4 win Tuesday against Eudora, Tonganoxie (10-4) sent Brady Swedo to the pitcher's mound. Swedo gave up a solo home run in the second inning and ran into trouble when Turner (9-5) got six of its first hitters on base in the third. Three runners came around to score before Connor Wentz-Hall struck out two to stop the bleeding.
Tonganoxie cut the deficit in half with a pair of runs in the fourth, which Ty Hampton and Thomas Minor led off with back-to-back singles. Hampton scored on a base hit by Colten Weaver, then Travis Woods — pinch running for Minor — crossed the plate when Swedo drew a bases-loaded walk.
Turner's lead shrunk to one when Connor Wentz-Hall drove in Woods in the fifth, but the visitors answered with a run of their own in the top of the sixth. Coach Mitch Loomis' squad gave itself a chance to tie or take the lead in the seventh, but the inning ended with the bases loaded.
"We talk about not wasting at-bats, but our mental focus sometimes goes away in the middle of games," Loomis said. "We let their lack of velocity slow down what we were doing."
Weaver, who led the team with three hits, made it a one-run game again when he scored on a throwing error in the eighth, but that's as close as Tonganoxie got.
Hampton and Minor joined Weaver as Tonganoxie's only players with multi-hit games, recording two singles each. Swedo took the loss on the mound. He gave up four runs on seven hits while walking three and striking out three in 2.1 innings. Wentz-Hall threw 2.2 scoreless innings of relief, and Woods allowed one unearned run in the final four innings.
Loomis said the team won't officially meet again until practice for the 2014 high school season begins, but that doesn't mean next year's players are without expectations in the offseason.
"We'll just encourage to get out and continue to hit, whether it's in the cage or playing with different teams, then stay out and throw to work those baseball muscles," he said. "Our biggest thing is getting some of these kids in the weight room. If we get a little bigger, the things we could accomplish could be pretty dangerous."
Turner 5, Tonganoxie 4
Turner 013 001 000 — 5 12 5
Tonganoxie 000 210 010 — 4 9 3
Colten Weaver 3-4, RBI; Ty Hampton 2-3; Thomas Minor 2-3; Brady Swedo RBI; Connor Wentz-Hall RBI.