Sokker Kamp draws big crowd to
THS

practice field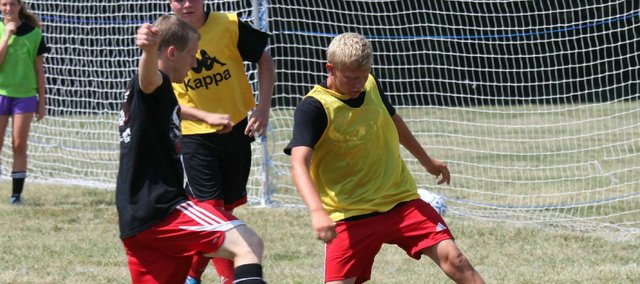 For some, this week's Tonganoxie High Sokker Kamp was the first look at the high school program. For others, it was simply a refresher. For a select few, it was the beginning of the end of a career in a Chieftain uniform.
For all, it was a week of progress.
More than 40 players ranging from eighth grade to high school senior — as well as a few recent graduates — congregated at the high school practice fields for a week of drills and scrimmages. The fourth annual camp took place under the leadership of THS coaches Brian Kroll and Justin Seever.
"After graduating 11 seniors off the boys squad and three off the girls, that's 14 kids who typically come to camp, but we had just as many freshmen and eighth-graders come out, so it was a good turnout," said Kroll, who started the camp in 2010.
Campers focused on basic skills when camp began on Monday, then worked on more advanced drills as the week's progressed.
This year's installment of the camp followed arguably the best overall soccer season in Tonganoxie history. Kroll's boys squad went 16-4-1 last fall and became the first THS team to reach the state championship game in a head-to-head team sport. Meanwhile, Seever's girls team went 9-8 — its first winning season in program history — and won a regional title for the second time in as many years.
Kroll said camp attendance was on par with that of summer workouts and credited the teams' recent success with the increase in numbers.
"Honestly, that's just the direction I think soccer is going here in town," he said. "I think people are starting to get educated to it, and they're starting to understand the game better. When you have a winning program, people tend to come out and watch wins."
Following the camp's conclusion on Friday, incoming freshmen Amanda Martin and Logan Williams were recognized as the most motivated girl and boy at camp, and fellow freshman Joanna Filbert won the overall camp stud award.
Kroll will also host his annual Kids Kamp, which will return for its third year July 15-19. There will be a session from 9 to 11 a.m. for kids in kindergarten through fourth grade and a session from noon to 2 p.m. for kids in fifth through seventh grade. Registration is $40 and can be paid on the first day of camp.