Dream leads to restaurant mural in Tonganoxie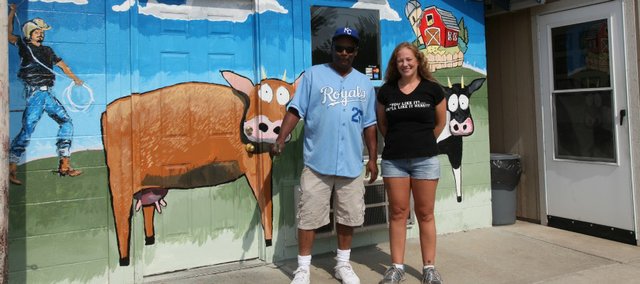 If you dream it, they will paint.
At least that's the scenario that unfolded for Kristin Conley, owner of Grandpa's Burger Box in Tonganoxie.
Conley had an interesting dream one night several months ago: She was chasing after a chicken and a pig with a spatula. In her dream there was a man roping in cows as well.
Waking up shortly afterward, Kristin woke up her husband, Chad, to tell him about her dream.
"If you don't say it, you always forget your dream," she said.
Conley somehow wanted to incorporate the dream into her business, which she bought from Jesse and Diana Smith about a year ago. Jesse Smith died late last July after a battle with cancer. Conley had worked for several years at Lil' Mom and Pop Shop in downtown Tonganoxie when the Smiths owned that restaurant. She worked again for the Smiths at Grandpa's Burger Box, which is on the west side of U.S. Highway 24-40 between Second and Third streets.
"It's in your blood," said Conley, who grew up cooking in a similar family restaurant business in Topeka. "When I moved to Tonganoxie, I found him (Smith). He was kind of like my dad when I moved to town."
Conley, 32, decided to retain the Grandpa's Burger Box name when she purchased it because it reminded her of her family's carry-out restaurant in Topeka, Harold's Prize Package, where she watched her grandfather make hamburgers and where she started helping out when she was 10.
"It was such an appropriate name, I didn't want to change it," Conley said about Grandpa's Burger Box.
As for the building's facade, that was a different story, and that's where her dream comes in.
Conley decided a mural would really grab attention from people traveling along the highway and be an inviting scene for customers.
The dream, she determined, would be the inspiration for the mural.
One of her customers, Teri Holloway of Tonganoxie, happens to be an artist. Though truck driving is his vocation, artwork is his hobby, thanks to some art classes he took while attending Emporia State University. Some of his works are hanging on the walls at Jammin' Java in Tonganoxie.
Conley and Holloway conversed about how she envisioned the mural. Holloway provided a sketch for what would be his first mural and the project was on.
With the help of his son, Austen, a college senior-to-be, and family friend Wyatt Weeks, who will be a senior at Tonganoxie High School, Teri worked on the mural for two days about a month ago.
"We cranked it out in like 12 hours," Teri Holloway said. "It was kind of a fun project. We tried to do it during the cooler part of the day. It went fairly fast."
Holloway, 53, said others have approached him about doing murals after seeing his work at the restaurant.
"I thought it really worked out with her concept," Holloway said. "She described it and I painted it. It turned out pretty good."
Conley has a work force of three helping her at the restaurant: Kourtni Freemyer, Jessica Bayliss and Macey Pauley. Her husband also helps out, so it made sense to have the "cowboy" in her dream represent him in the mural. She said the livestock on the mural fit in nicely with the menu: chicken strips for the chicken, pork tenderloin for the pig and for the cows, hamburgers, of course.
"It turned out just as it was in my dream," Conley said about the mural.
But there might be more artwork to come. A blank canvas remains on the north side of the waiting area at Grandpa's Burger Box. Conley said she has been kicking around some ideas with Holloway on how to paint that area.
Asked what people might see in the next mural, she wasn't divulging any details.
"You'll just have to wait and see," she said.