Youths flock to
THS

soccer field for 'Kids Kamp'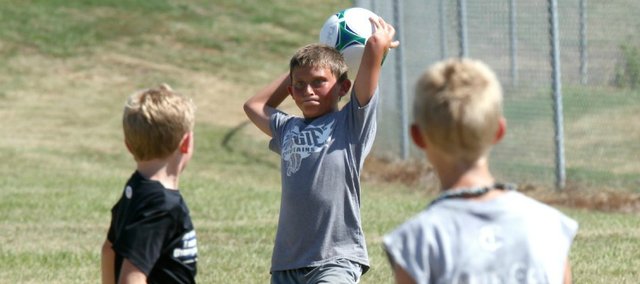 Photo Gallery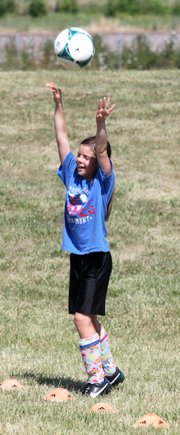 2013 Kids Kamp
More than 20 local youths made their way to the Tonganoxie High soccer field last week for the third annual Kids Kamp.
Several youths got the chance to hone their soccer skills last week at Tonganoxie High, as the annual 'Kids Kamp' returned to town for its third year.
Traditionally, the camp is broken into two sessions — one for kindergartners through fourth-graders and another for fifth- through seventh-graders, but camp leader Brian Kroll elected to combine the two sessions this year in an attempt to avoid the afternoon heat. All told, 24 kids — twice as many as last year's camp — made their way to the high school practice field for five days of drills and basic fundamentals.
"Honestly, it's just that the word is getting out there," Kroll said. "As far as I know, there had never been anything as far as a high school or youth soccer camp with the exception of what parks and rec has so offer, so the word is getting out that it's been made available to them."
Numbers between the two age groups were fairly even, but a handful of younger kids were moved to the older group when they excelled early in camp. Kroll had current and former THS players on hand to work with both age groups throughout the week.
Camp wrapped up Friday with a scrimmage pitting the kids against their parents, which gave the parents a chance to experience firsthand what their kids had learned during the week.
Following such a dramatic spike in attendance this year, Kroll said he hopes the sport's awareness will continue to grow, which could potentially lead to added success beyond the youth ranks.
"I would hope to be able to continue to educate the community on the game I love to play and coach," he said. "I think the game deserves it and I believe the people around town deserve to know what the game has to offer."