Middle school principal settling in to new post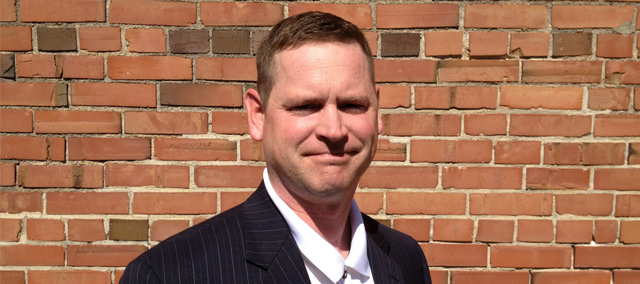 Mark Farrar's career in education has run the gamut — teacher, coach and now administrator.
The size of schools he's worked in has spanned the spectrum as well.
Farrar, 38, served his student teaching duties at Washburn Rural in Topeka before taking his first teaching job at tiny Herndon in extreme northwest Kansas. From there, he worked in schools throughout Wichita before landing a job at Waverly, a Class 1A school.
And now, he's come to Tonganoxie. Farrar started earlier this summer as principal at Tonganoxie Middle School, replacing Jill Dickerson, who left to take an administrative position in the Shawnee Heights district near Topeka.
"Tonganoxie was perfect," Farrar said about his latest destination. "It was the perfect location in that pocket between KCK and Lawrence. It's still kind of out in the country."
Farrar's parents live in Lawrence, as does one of two brothers, so Tonganoxie offered an opportunity to be closer to them as well.
He met his wife, Janet, in the area. She was working on her master's degree at Kansas University while he was student teaching in Topeka.
"I just always gravitated or felt like I wanted to make northeast Kansas our home," he said.
Farrar, who earned his bachelor's degree from Emporia State University in 1998 and a master's degree in school leadership from Baker University in 2010, taught social studies and coached several sports in Herndon. The Rawlins County town has a population of about 130.
"At Herndon, I was head coach of about everything," Farrar said. Herndon played 6-man football against teams in Colorado and Nebraska.
After Herndon, Farrar moved to Wichita. He taught social studies and was an assistant football and basketball coach at Wichita East High School, and then taught and was head tennis coach at Wichita West. He served as assistant principal at Wichita South before taking the K-12 principal position in the Lebo-Waverly School District.
Farrar said working in the Wichita schools was a good experience.
"I really enjoyed my time there," he said. "The kids were good. It has its challenges, of course … it was good training. It allowed me to focus my attention on school safety and security issues and helping a diverse range of kids."
Though he's only been at TMS for a month, Farrar said he's settling in.
"Things have gone very well," Farrar said. "Very smooth. It makes it really easy to come into a school that's already operating smoothly.
"These kids are high achievers. I know the staff is extremely talented. They've got accolades on their belts already."
Farrar said he was drawn to Tonganoxie by the strong staff, students and community.
"That's a broad statement, but it's really the truth," he said.
He and Janet have two children, Ben, 8, and Maggie, 4. Originally from Norwich, a town about 35 miles southwest of Wichita, Farrar said he enjoys traveling with his family. Janet originally is from Wisconsin, so they've been to that part of the country, among others.
He also enjoys a tradition of visiting Las Vegas with his two brothers during the NCAA Tournament each year.
"My biggest hobby is probably following KU sports," he said. "It always has been."
As for his new position, Farrar said he's ready to get more acquainted with the TMS staff and the community.
"I would say my focus right off the bat will be developing relationships with the community and parents," he said. "When you can do that, that helps everyone inside the school operate well, too. And focus a lot on developing relationships with staff, trying to connect with them."