ONE

MORE

TIME

: McLouth duo set to participate in Shrine Bowl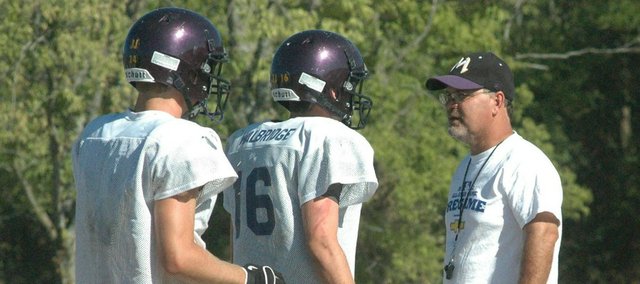 2013 Kansas Shrine Bowl
When: 7 p.m. Saturday (Gates open at 5 p.m.)
Where: Yager Stadium, Washburn University, Topeka
Head coaches: Jason Swift, Shawnee Heights (East); Ryan Cornelsen, Hays (West)
Area participants: Chris Stewart, McLouth (coach); Bob Lisher, Lawrence Free State (coach); Marc Walbridge, McLouth; Tye Hughes, Lawrence Free State; Dayton Valentine, Baldwin; Nick Becker, Eudora; Staton Rebeck, Mill Valley
2012 score: West 14, East 7
All-time series: West leads 25-13-1
Other events: Parade, 10 a.m., 10th and Jackson; All-star and open charity road race, 6:15 p.m., Washburn campus
Marc Walbridge has officially begun preparation for his first football season at Fort Scott Community College, but when Saturday rolls around, the recent McLouth High graduate will get one more chance to strap on a purple and gold helmet.
Walbridge will share the field with MHS coach Chris Stewart once more when the duo participate in the 40th annual Kansas Shrine Bowl at Washburn University's Yager Stadium in Topeka.
A four-year starter at quarterback, Walbridge led McLouth to its best season in recent history last fall. He threw for 1,662 yards and 21 touchdowns in his final high school season — a year in which the Bulldogs ended a seven-year playoff drought.
Even with all the success, though, the Shrine Bowl selection wasn't any less of a shock.
"I actually found out on Christmas Eve, so it was kind of a cool gift," said Walbridge, who led MHS to a combined 16-4 record in the last two seasons. "It's pretty much the pinnacle for Kansas high school kids, so as a small-town kid, you don't really think that will happen."
Walbridge is one of two quarterbacks on this year's East roster, but he's also a backup on the special teams unit and could see playing time at safety. He's the first McLouth player to earn a selection since Emery Folsom in 1995 and just the Bulldogs' third selection overall (Vic Ford, 1979).
Meanwhile, Stewart was selected as an East assistant coach after leading McLouth to a 9-2 record — its best finish since 2005. He is one of three Bulldog coaches ever named to the Shrine Bowl coaching staff, joining Dennis Cox (1981) and Armin Landis (1979).
"It's good for our whole team to have (Walbridge) here, and it's an honor to be able to coach," Stewart said. "It took a team effort to get where we're at, so I think that's what it's all about."
Players are often formally invited by the Shriners in front of their respective student bodies — generally at an assembly or during halftime of a basketball game — but Walbridge instead announced his selection when he and fellow 2013 grad Dakota Cop signed with Fort Scott on Feb. 7.
McLouth will be represented on the sideline as well, as the Bulldog cheerleading squad was also invited to participate in this year's game. Cheer coach Jeanie Thompson will take 11 girls to a three-day all-star camp, which begins Thursday on the Washburn campus and ends with the game itself.
"It's an honor just to go," Thompson said.
In addition to the football and cheer squads, an all-state marching band is comprised of students from across the state. There is also an all-star cross country race, which, like the football game, showcases graduated seniors in an East-West format. The race is run in conjunction with an open charity race on the same course.
All events benefit the Shriners Hospitals for Children's network of 22 hospitals across the U.S.
"I hope people remember why they're coming out," Stewart said. "It's about helping the kids and helping the Shriners. That's really what this is all about."
Preparing for battle
East players and coaches are currently preparing for Saturday's game at a team camp at Emporia State University. Walbridge left Fort Scott practice last Thursday evening so he could attend the start of the Shrine Bowl camp on Friday.
Camp will continue until Thursday, when players and coaches will meet for additional festivities in Topeka. Each day of camp consists of morning and evening practice, as well as afternoon film sessions or playbook discussions.
"It's a serious practice schedule just like you'd normally have when preparing for an opponent," Stewart said. "We're expected to come out, play hard and try to win a football game."
Stewart and Walbridge will try to help the East end a seven-game losing streak, which includes four losses of seven points or less. The West squad leads the all-time series, 25-13-1. Shawnee Heights coach Jason Swift is this year's East head coach. Meanwhile, Hays coach Ryan Cornelsen is leading the West squad, which is practicing at St. John's Military School in Salina.
"I'd like to score a touchdown or something like that, but I obviously want to help raise awareness for the hospital and help end the west's streak," Walbridge said.
A change of venue
Thanks to some "timely" construction, Bulldog supporters won't have to drive far to see their participants in action. This year's game originally was to be played at Kansas State University's Bill Snyder Family Stadium, but the Manhattan venue is currently undergoing major renovations. That gave Topeka the opportunity to host the event for the first time since 2000.
Preparations began as soon as Topeka won the bid two years ago. All told, roughly 250 volunteers — primarily Shriners, members of Masonic Lodges or various children's groups — put in time to make the upcoming weekend possible.
"There is a Shrine Bowl group, and that's all they do every year," said Roger Farthing, public relations director for the Arab Shriners of Topeka. "Members of all five Kansas temples oversee all operations associated with the Shrine Bowl. With us being the host city, we help with that in any way we're asked to do so."
Saturday's schedule of events will open at 10 a.m. with a parade starting at 10th and Jackson. Yager Stadium gates will open at 5 p.m., the cross country race will begin at 6:15 p.m. and the football game will kick off at 7 p.m.
Eye-opening experience
Fans get to watch Shrine Bowl participants represent their schools on the gridiron each year, but in the days preceding the game, those involved get a look at the event's overall purpose. Traditionally, Shriners would take football players to meet patients at the organization's hospital in St. Louis, but that practice was recently discontinued because of increased travel costs. Instead, this year's meetings will take place right at the site of the game.
Sixteen patients and their families will travel Thursday to Topeka to interact with players, cheerleaders and band members. Game participants will learn about the patients' individual disabilities and how they go about day-to-day tasks. According to Farthing, the experience serves as an eye-opener for participants and hopefully gives them a greater understanding of the game's real cause.
Shriners International, which has nearly 200 temples in seven different countries, operates under the motto "No man has ever stood so tall as when he stoops to help a child." The organization treated its millionth patient in 2012.
"For the last 85 years, our main objective has been to take a child and improve their life," Farthing said. "That's what we're here to do, and the Shrine Bowl is one of the things that helps fund the hospitals, so it's very necessary. We try to have fun doing it and make sure the kids enjoy themselves."