School board approves president,
VP

for 2013-14 academic year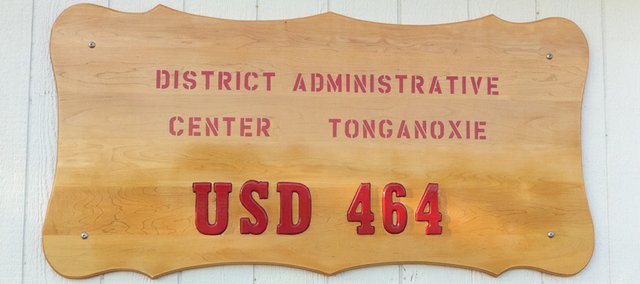 The Tonganoxie school board will have the same leadership for 2013-14.
The board approved Kris Grinter to be president and Kathy Baragary vice president at its July meeting.
The two served in the same positions for 2012-13.
In other business, the board:
• Heard from Weseman about the county's special education cooperative.
The cooperative's projected unencumbered cash balances for 2013-14 look to be at a deficit of more than $370,000.
Weseman said the cooperative's superintendent advisory board agreed to increase member contributions for 2013-14 by 20 percent over the 2012-13 amounts and conduct a thorough review of all positions and caseloads to present to the SAB. The board also agreed to review current contracted services, identifying areas that can be shared across the district with existing personnel.
There also are freezes on hiring, contracted services, equipment purchases and non-essential travel until the review is complete.
Leavenworth USD 453 will be sending an initial letter to para-educators welcoming them. A second letter will inform them of the district to which they've been assigned.
• Approved, 7-0, hires, resignations and non-renewal of a work agreement.
Hires for 2012-13 were Susan Campbell, transferring from sixth-grade multi-subject to sixth-grade language arts (replacing Laurie Bottenfield); Lea Mielke, transferring from seventh-grade multi-subject to seventh-grade language arts (replacing Jennifer Eastes); Suzanne Worner, seventh-grade multi-subject teacher; Erin Bates, seventh-grade head volleyball coach; Garrett Black, seventh-grade assistant football coach; Juliet Ford, seventh-grade assistant volleyball coach; Nick Myers, TMS cross country coach; Roger Adams, bus driver; Stacy Bradley, transferring from bus driver to van route (additional route needed for 2013-14); Julia Jellison, transferring from special education bus para to special education bus driver; Allison Kaighin, bus driver (taking Stacy Bradley's bus route); Sherry Miller, special education bus para (para needed for bus 35 for 2013-14); and Andrea Putthoff, bus driver.
The board accepted resignations from Jared Jackson, eighth-grade assistant football coach, and Angela Babcock, THS evening custodian,
The board did not renew the work agreement with Jimmy Erwin, special education bus driver, and Jennifer Harber, special needs bus driver.