Walbridge comes up big in Kansas Shrine Bowl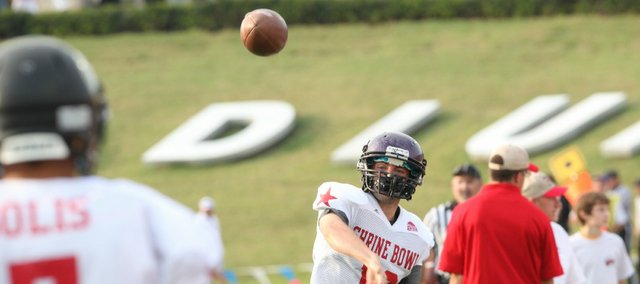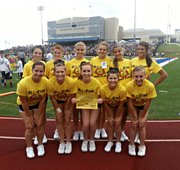 Topeka — When Marc Walbridge strapped on his helmet for Saturday's Kansas Shrine Bowl, he did so with two goals: throw a touchdown pass and snap the West's win streak. The four-year McLouth High starter didn't get many opportunities, but still managed to accomplish both feats.
Walbridge, a Fort Scott Community College signee, only played two series in the first half — neither resulting in scores — but came up big on the East's final possession of the third quarter when he connected with Lawrence Free State's Tye Hughes, propelling the East to a 22-19 victory at Washburn University's Yager Stadium.
With the East trailing, 13-6, Walbridge took the field at his own 30-yard line. After a pair of running plays moved the ball into West territory, Walbridge put the team in scoring position with a 30-yard pass to Austin Moses of Blue Valley Northwest.
Two plays later, Walbridge and Hughes took advantage of a one-on-one situation against a West safety and connected from 19 yards out to make it 13-12 with just 15 seconds left in the third quarter.
"We actually ran that play Tuesday night in a scrimmage," said Walbridge, who finished a perfect 7-of-7 passing for 69 yards. "I knew (Hughes) was going to be wide open, so I didn't want to throw an incompletion. I knew it was there right from the get-go."
Following the touchdown, Walbridge hooked up with Blue Valley West's Conley Wilkins for a two-point conversion to give the East its first lead of the contest.
The West temporarily regained the lead on a six-yard touchdown run by Salina South's Cody Busby midway through the fourth quarter, but the East used some trickery on the ensuing drive to go in front for good. Wilkins found Moses wide open on a fourth-down halfback pass from the West 20 with 3:04 remaining, and Topeka High quarterback Raymond Solis hit Moses for the two-point conversion.
Walbridge replaced Solis for the East's last offensive series in the final minutes. The West got a final shot to score as time expired, but the East sideline erupted when the defense broke up a desperation play reminiscent of Cal-Stanford.
The East victory snapped a seven-game win streak by the West, which started with a 10-9 victory at Pittsburg State University in 2006.
Walbridge got to share his final high school game with McLouth head coach Chris Stewart, who was an assistant coach for the East squad. The duo had plenty of hometown support, as the cheer squad and several teammates were on hand for the game.
"They have a lot of commitment and they want to see us do well," Stewart said. "It was just a wonderful feeling to have that many people out there supporting us."
After a scoreless first quarter that featured just 48 yards of offense, the West drew first blood when Wichita Collegiate's Markus Phox connected with Scott Community's Drew Kite on a fake field goal with seven minutes left until halftime. The East answered with a 31-yard scoring run by Hiawatha's Denzel Chilcoat on the next drive, and the teams went into the locker room at halftime deadlocked at 6-6.
The West opened second-half scoring on a two-yard run by Hays' David Cardinal with 6:39 left in the third, then neither team scored again until Walbridge engineered his go-ahead drive late in the period.