Family, friends recall Tonganoxie store owner, 'storyteller'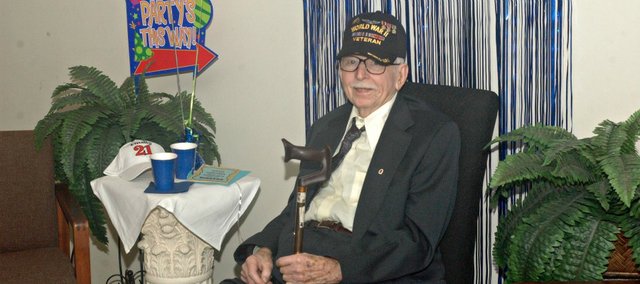 As the town's self-appointed historian, John Cass Lenahan Sr. could tell many stories about the history of Tonganoxie. But just about as many stories could also be told about him.
"If I told all the stories about John, we would probably be here until 2015," Rev. Mark Goldasich said Saturday at Lenahan's funeral service at Sacred Heart Catholic Church in Tonganoxie.
Goldasich said he thought Lenahan, who died July 19 at age 90, summed up his own life best in a colorful quote from a 2008 interview with the Mirror.
"I don't want everyone to think I'm some damned old tooty," he said then. "I'm not some old man playing a fiddle without a bow, you know."
The 2008 story focused on Lenahan's roll as local historian — he'd written three books about the history of Tonganoxie.
He was quite the storyteller, as daughter, Beckie Myers, recalled.
"He said he never lies, he only fabricates," Myers said with a laugh.
Beyond the tall tales, however, were recollections of history.
John Cass Lenahan Jr., who has always been known in Tonganoxie as Chip Lenahan, said his father's involvement in telling the town's history started in the 1960s.
Customers at Lenahan Hardware, which John Lenahan owned for 35 years, would bring in postcards and other pieces of Tonganoxie history — and their family history. Chip, whose hobby was photography, took photos of many of the postcards. Some of the pictures were then enlarged as print copies and posted throughout the store.
"They took over housewares," joked John and Jean Lenahan's youngest child, daughter Angela Lenahan.
John Lenahan was a founding member of the Tonganoxie Community Historical Society. Jean was an avid gardener who established several flower beds throughout Tonganoxie. She also worked several years at Fort Leavenworth. Jean died in 2001; John retired from the hardware business in 2006.
Tonganoxie resident Ken Mark, at John Lenahan's request, typed and edited Lenahan's life story, which Lenahan had written down on page after page of yellow legal pad.
Mark recalled Lenahan's accounts of growing up. Born Jan. 13, 1923, Lenahan wrote about an accident in 1929 when a vehicle struck him on Pleasant Street in Tonganoxie. The accident caused massive fractures to his skull and he was in a weeklong coma. Mark said the accident put Lenahan behind in school and he graduated in 1943.
Lenahan served in Italy during World War II, and sang in a choir for a Midnight Mass service at Christmas. Goldasich said he bonded with Lenahan over the stint in Italy, as Goldasich also lived in Italy for about five years.
The normal response when receiving Communion at Mass is "amen." But Goldasich said Lenahan always responded with "grazie," which is Italian for thank you.
Over the years, Mark took Lenahan for medical visits to the VA hospitals in both Topeka and Leavenworth. Mark said Lenahan always wore his World War II veteran's hat for the visits, a cap he also proudly wore for his 90th birthday celebration earlier this year.
"People would make a little fuss of that," Mark said of the hat.
Even after he gave up his hardware store, Lenahan tried to stay busy. He would dig dirt with his backhoe on his land near Tonganoxie and sell the soil.
"In digging his dirt, he had all sorts of puddles," Chip Lenahan said. "He called them ponds. They weren't there before. That was something to do. He liked to play with the backhoe. People would come out and that was an opportunity to visit."
John also had a "museum" of sorts in his garage, with various newspaper clippings and photos.
"That was one of his things," Chip said. "Museum-slash-gallery-slash point of purchase site for his books."
Lenahan's children recalled memories of their father, with some of their favorites being those at the hardware store. Angela said her dad worked in the building in high school when it was the Royal movie theater. After it became a hardware store, Lenahan took it over in the 1960s.
She grew up in the store. "I would come home from school and hang out at the store until it closed and he took me home or Mom came and got me," Angela said. She remembered being 5 years old and always wanting to "crank" the antique cash register that once was used at Zellner Mercantile many years ago in downtown Tonganoxie.
Myers remembered her dad being a friend to all who came into his store.
"If you didn't have enough money for something, he would write it down on a piece of paper and he would have you pay him when you could," Myers said. "If you were down on your luck, he was going to help you."
Though Angela said she's not a history buff herself, she appreciated what her dad did in telling Tonganoxie's stories.
"I always thought it was cool to tell people my dad was an author," Angela said.