Local youth to run in national Hershey Games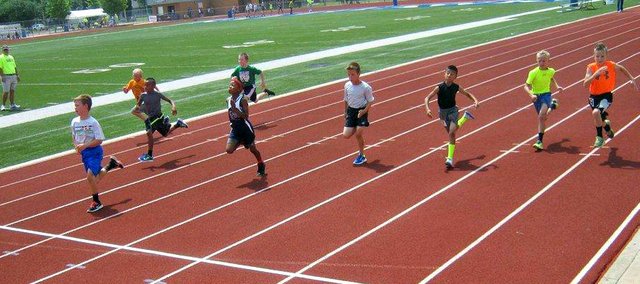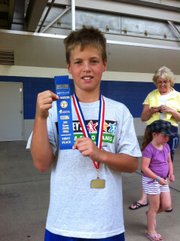 Before this past May, Ethan Staples had no track and field experience. Just a few months later, he's about to represent his town on a national stage.
Staples, 10, will run in the 50-meter dash this week at the Hershey's National Track and Field Games in Hershey, Pa. The incoming fifth-grader at Tonganoxie Elementary School was asked to try out for the games in May and has since established himself as one of the state's top competitors.
After winning a local meet at Beatty Field, Staples competed in a regional meet June 21-22 in Hutchinson. He dominated his preliminary heat with a time of 7.51 seconds, then won the event title the next day with a time of 7.36 — one one-hundredth of a second faster than the winning time at last year's national meet.
All told, Staples beat out a field of about 40 runners.
"It went well. I won by a couple steps," said Staples, who also plays baseball, basketball and football. "A couple weeks ago, one of the chaperones called and told me I advanced to nationals."
In addition to his 50-meter championship, Staples placed fifth in the 400-meter and also participated in the long jump in Hutchinson.
While at nationals, Staples will represent Region 5, which encompasses Kansas, Colorado, Wyoming, Nebraska, South Dakota, North Dakota and two Canadian provinces. He is the first Tonganoxie youth to qualify for the national meet since recent Tonganoxie High grad Conner Kietzmann did so in the 400-meter in 2005. Kietzmann went on to take fourth at nationals — a feat Staples hopes to surpass.
"I hope to do well. I want to take at least third," he said.
Cameron Long of Columbus, Ohio, won last year's national race in the 9-10 age division with a time of 7.37. The meet record of 7.04 was set by Sterling Harris of San Bernardino, Calif., in 1984.
Athletes will have a workout on the Hershey facilities on Friday before running the race on Saturday morning. There will be one heat of eight runners.
When he's not working out or racing, Staples and his family will also get to visit the Hershey's amusement park and tour the chocolate factory.