Soccer camp returns to Chieftain Park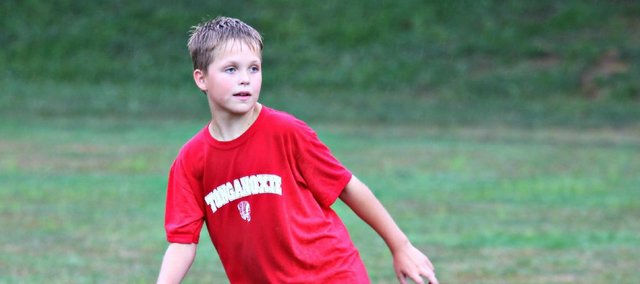 Last week, Challenger Sports brought its British Soccer Camp back to Tonganoxie for its fourth year.
Youths met for five days at Chieftain Park to hone their skills and work on various games and drills with international instructors. Players ages 5-8 met in a morning session, while those ages 9-14 met in an afternoon session.
"The progress was good," said Jake Burton, an instructor from Manchester, England. "You can gauge pretty quickly which kids have played soccer before, but if you play a lot of fun games, then they'll associate soccer with fun and they'll want to play it more."
There were 13 participants in the morning session and 18 in the afternoon session. Campers spent each day focusing on a different area of the game, including dribbling, shooting, heading and defense. Core skills were also incorporated into each session.
Camp started Monday and concluded Friday. The final session was mainly comprised of games to reward campers for the work they put in throughout the week.
Challenger regularly sends coaches to several areas throughout the U.S. In addition to his stop in Kansas, Burton, a second-year instructor, spent time in Texas and Louisiana this summer. He's currently in Branson for another week of camp, but will soon return home to prepare for the start of his amateur soccer team's season.