Youth football camp draws 110 to high school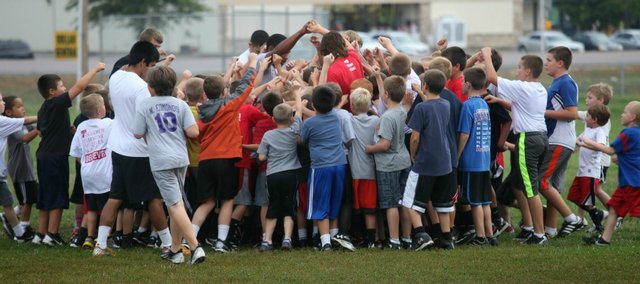 Photo Gallery
Tonganoxie youth football camp 2013
More than 100 youth football players flocked last week to the Tonganoxie High practice field for four days of drills.
As the 2013 football season draws nearer, excitement continues to grow throughout Tonganoxie. That was evident last week at the Tonganoxie High practice field, where players showed up in droves to put in some time on the gridiron.
Coaches and high school players worked with 110 kids in kindergarten through sixth grade at the second annual youth camp under head coach Al Troyer. Players met for four days and went through various stations covering all aspects of the game.
"The atmosphere is alive right now," said Troyer, who led the Chieftains to a district title in his first season at THS. "Camp went great and the kids were enthusiastic. They wanted more days."
Kids were broken into groups of about 10 and rotated through different drills. After making their way through the stations, they broke into groups by position and worked on more specific drills.
Campers were given a word of the day at each camp session. Words included commitment, character, courage and, on the last day, team.
The power of the final word, Troyer said, was made evident by the number of parents in attendance every day, as well as the number of youth coaches on hand to help with the camp.
"That's what that Tongie 'T' stands for," Troyer said. "From kindergarten all the way up to varsity, we're all a team."