Linwood Library moves forward with new director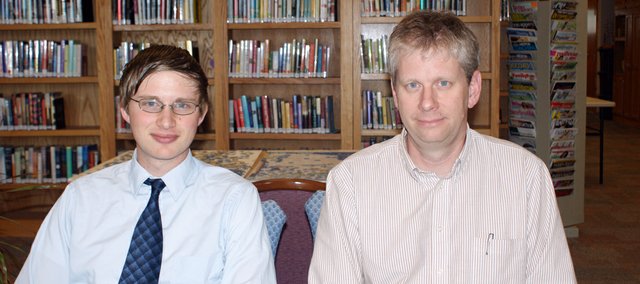 A lot has been changing at the Linwood Library in the past year, including a huge expansion of its digital material and two new directors.
Dave Hanson started as director one year ago, but after deciding to retire this summer, Chris Bohling has stepped into his shoes.
"Dave has built an incredible foundation here," Bohling said.
Hanson started his career at the New York Public Library in New York City and eventually moved on to work in libraries in Johnson and Wyandotte counties in Kansas.
"I started at the top and gradually worked into smaller and smaller libraries," he said.
The demographics of the Linwood library piqued Hanson's interest, he said. Linwood has a population of about 200 but the library's district includes about 4,000 residents.With the library on the verge of exciting advances in its digital circulation — eBooks — Hanson knew it was where he wanted to be.
"You're talking about one of the most unique opportunities in libraries," Hanson said.
As the library's former digital resources specialist, Bohling is the perfect fit to take the helm and continue the library's work in digital advancements, Hanson said.
Bohling said he didn't plan to work in library administration. He actually studied opera vocal performance as an undergraduate and then earned a master's degree in musicology at Kansas University.
His first work in libraries was at the Thomas Gorton Music and Dance Library at KU. By chance, he found out about the open position as digital resources specialist in Linwood, and it became an outlet for his skills in online and digital work.
Now, as director, Bohling has big plans for the library. The library always will be a place residents come to check out books and movies, but a library's core principle is to provide information and education, Bohling said. To keep up with the demands and needs of patrons, that means expanding the library's Internet presence.
"I want to expand what's available digitally and what people can do with the library," Bohling said.
The library offers classes and resources to teach residents about many different technologies, but Bohling also wants the library's website to become a central location for that education, he said. When people want to learn to navigate the digital world, he wants them to come to the library's website for learning tools.
"We want the Internet to be the library," he said. "We want people to be able to use the library even if they don't want to drive here."
For Bohling, that means filming programs and events at the library and streaming them online for residents to view from home. It also means networking with other local libraries and schools to offer more extensive digital resources. Now that the Basehor-Linwood school district issues iPads to students, the library can offer important resources for students, too, Bohling said.
Whatever Hanson and Bohling have been doing seems to be working well for residents. Hanson said overall circulation increased 33 percent in April, which were the most recent numbers available.
"It speaks to the people of the Linwood district," Hanson said. "That speaks to who they are and what they value."