McLouth attracts several teams for barbecue event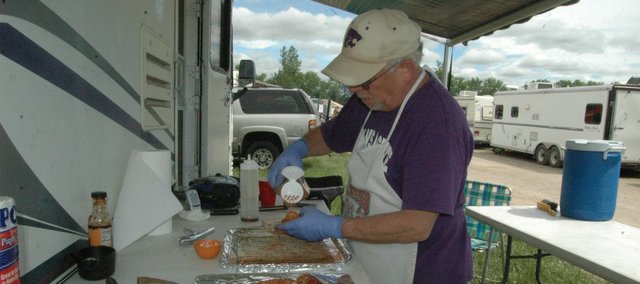 Jim Belt sprinkled seasonings atop the skin of chicken he was preparing at Saturday's McLouth BBQ Blowout.
He also put seasoning underneath the skin to get more flavor into the meat itself.
Jim and Cathy Belt, Linwood are part of the barbecue team Mad Hogs and an Englishman.
The other half of the team, Charlie and Barb Frank of Gladstone, Mo., just returned from the United Kingdom — Charlie's home country and the reason for the Englishman portion of the team name.
The Franks weren't able to attend Saturday's competition, but the team generally competes in seven or eight contests annually.
Saturday's competition had 37 entries, which event chairman Cliff Weeks said was an increase from last year.
Mad Hogs and an Englishman were one of several local teams to compete. Some teams made a longer jaunt for the event, including a team from Odessa, Mo., Weeks said.
Belt said he likes to take an ugly piece of beef, chicken, whatever it might be, and make it "real tender and succulent."
Asked what category he likes best, Belt said he prefers ribs.
"Who doesn't like a good rib?" he said.
Grand champion this year was Truebud BBQ (Tim Grant), while reserve champion went to ChickHovenSwine BBQ (Eric Westervelt) of Spring Hill. Placing third overall was Eatin' Ain't Cheatin' (Corey Chase) of Kansas City, Kan., and fourth overall went to Serious Que Barbeque (Scott Henricks) of Olathe.
People's choice winners were 8 Ball BBQ (Ron Tullis) and Smokin' Wide Open (Chad Bradley), both of McLouth.
The event had plenty of other activities, as well. The Kiwanis Club served breakfast before the Remembering Justin 5K and 1-mile fun run/walk in memory of Justin Johnston. There also was a motorcycle show, 4-H pie baking contest, exotic pets zoo, pony rides and children's rides and games. Firefighters had a firemen's tug-of-war and a Lifestar helicopter landed at noon.
"It's good entertainment for the community," Weeks said of the blowout. "There's something for the entire community."