THS

boys finish hoops camps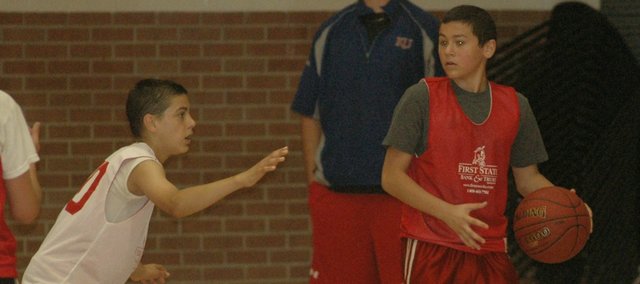 The Tonganoxie High boys basketball teams got a head start on the 2013-14 season when they hit the gym for a four-day camp. The Chieftains kicked off a busy summer schedule with four days of drills, refreshers and scrimmage.
The camp marked the first time THS practiced as a whole team since wrapping up its 9-12 season in February. It also marked the first time the team took the floor without recent grads John Lean, Blair Mathisen and Keaton Truesdell. Lean was the only starter among that group, so this year's squad will return plenty of varsity experience.
"Last year, nobody had played varsity except for a couple people," senior Tyler Ford said. "This year, we have a lot more people that know what the tempo is. Guys are just more prepared for it. We worked some kinks out and got ready to progress over the summer. We've still got work to do, but we got a lot of kinks out."
Camp ended Friday, but the Chieftains didn't take any time off. They traveled Saturday to Pittsburg State University for a one-day team camp, then opened a Monday night league this week at Rockhurst University.
The team will play in the Rockhurst league through the month of June and will travel June 14 to Omaha, Neb., for a two-day team camp at Creighton University.
"What I'd like to see is for us to compete, no matter who we're playing," coach Shawn Phillips said. "The good thing about our summer schedule is we play all different kinds of teams. Last year, we struggled with pressure on the perimeter, so I'd like to see us grow in that regard. I'd like to see that and I'd like to see our post players be more physical in the paint."
In addition to the varsity camp, 12 incoming freshmen turned out last week for their first round of high school practices. Phillips said he's familiar with several of the new players after working with them in various youth camps and programs.
"We had a good group of kids come in," he said. "Their eighth-grade coach did an excellent job installing some things that we want to run, so they hit the ground running. We tried to build on what they learned last year, so hopefully they can get assimilated into the program quickly."