THS

football starts prep for 2013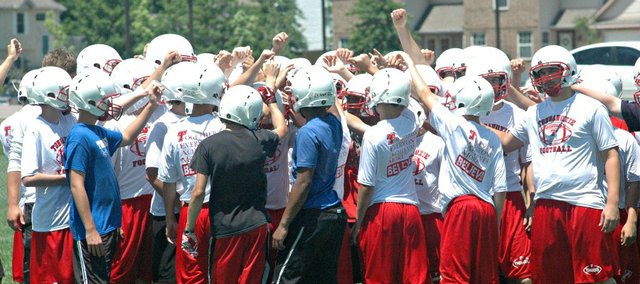 Last November, the Tonganoxie High football team done something it hadn't done in seven years: It won a district title and landed in the playoffs. Monday morning, the Chieftains began their quest to prove that 2012 was no fluke.
THS players strapped on helmets for the first time this year when they kicked off a five-day team camp on the high school practice field. About 60 players — up from 45 a year ago — were on hand when preparation for the upcoming season officially got under way.
"It feels great compared to last summer when I was new coming in," said second-year head coach Al Troyer, who led THS to a 5-6 season in his first year. "The kids are excited. We finished up well last year, and they're excited about football."
Troyer and his staff spent last year's team camp installing new schemes, but with a year's worth of experience under their belts, the 2013 Chieftains are starting the year by fine-tuning the system they learned a year ago.
THS lost six members of last year's team to graduation, but this year's squad is highlighted by a 22-man senior class — many of which started regularly last season. Cole Holloway, Shane Levy, Wyatt Weeks, Eric Tate, Tyler Ford and Zeke Kissinger will look to lead the way after being selected as team captains by their teammates.
"We want to pick up the intensity," said Holloway, who rushed for 1,271 yards and 10 touchdowns last season. "We want to have perfection by the end of the week so we can just keep it rolling throughout the summer. We hope to be in midseason form by the first week of the season."
Following this week's camp, the team will participate in various camps leading up to the first official day of practice on Aug. 19.
"We want to execute what we do better, and we're able to start at that point instead of trying to install something on day one," Troyer said. "We're trying to make it live. Everything we do has purpose."