Chieftain girls open summer schedule with team camp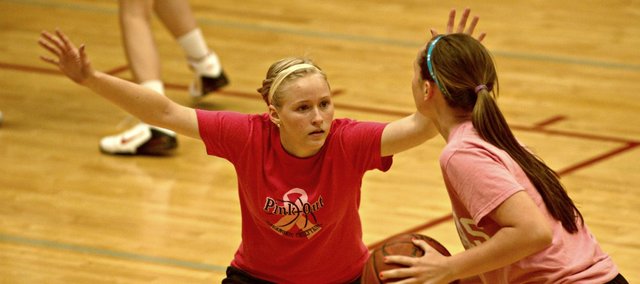 With last year's return to the state tournament still fresh in their minds, Tonganoxie High girls basketball players returned to the court this week in preparation of even more success in 2013.
The Chieftain girls, who went 15-8 and ended a six-year state drought, opened a four-day team camp Monday in the THS gymnasium. It was the first time the whole team practiced together since ending its season last March in the Salina Bicentennial Center.
"I've been waiting since the last day of practice and I know a lot of other people have to," said senior Katelyn Waldeier, a regular starter last season. "It's just exciting to get back in the gym and start playing again."
Waldeier and fellow senior Emily Soetaert are the only two returning starters, but THS had several young players earn varsity minutes as underclassmen a year ago.
Coach Randy Kraft said one of the primary objectives this summer will be to further prepare the younger players to step into larger varsity roles when the season starts.
"It's pretty easy to see that we have some younger kids," Kraft said. "I think some of them are ready to step up, but some of them are questioning whether they're really an older kid now. "We really want to get them locked into some fundamental stuff. Hopefully that will give them a good base to work with and get better this summer."
The THS girls will see plenty of live competition in the coming weeks. They'll travel this weekend to Piper for a tournament, and they'll compete in a Wednesday night league at Bonner Springs throughout the month of June.
The Chieftains will also travel June 21 to Harrisonville, Mo., for a team camp, and they'll participate in the Jayhawk Jamboree on June 29 in Lawrence.