Lean signs soccer
LOI

with Crusaders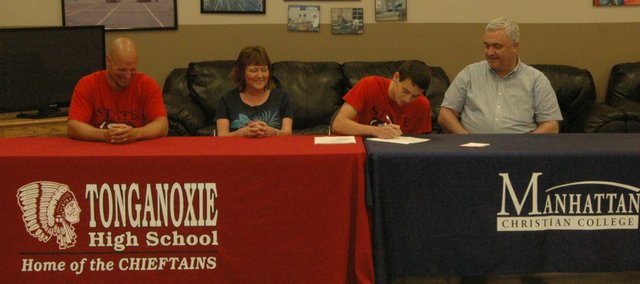 In the weeks following graduation, John Lean wasn't sure what his future would hold. Thursday afternoon, the Tonganoxie High alum's plans became much more clear.
With coaches, friends and teammates present in the THS Chieftain Room, Lean signed a national letter of intent to play soccer at Manhattan Christian College.
"It happened in a matter of four or five days," Lean said of his journey to the Crusader program. "I knew the coach was kind of looking at me, so I sent him a text and he was ready to sign me right away. It's like the weight of the world has been lifted off my shoulders."
Lean only played for the THS program for two seasons, but they were the two most successful seasons in school history. The Chieftains went a combined 27-11-2 and won back-to-back regional titles in 2011 and 2012. They reached the Class 4-1A state championship game last fall, becoming the first THS team to play for a state title in a head-to-head sport.
Lean started every game of his two-year career at midfielder. He was recognized for his efforts with an All-Kaw Valley League honorable mention after his senior season.
"If that kid would have come out freshman and sophomore year, it would have been crazy," coach Brian Kroll said. "I've always said soccer is basketball with your feet, and it just fits for him really well. He was an immediate contributor."
In addition to soccer, Lean played basketball for four years and competed in the long jump on the track and field team as a senior. He is the fourth 2013 graduate to commit to a college soccer program. He joins Ottawa University signee Zack Tallent, as well as fellow Crusader signees Keaton Truesdell and Matt Saathoff.
"MCC is always looking for quality people," THS athletics director Brandon Parker said. "They've already picked up quality people from us, and they've just added to it by adding John to the mix."
The Chieftain-Crusader pipeline continues to grow, as Lean, Truesdell and Saathoff will join 2012 THS grad Matt Briggs at MCC. Briggs helped last year's Crusader team to a 19-6 record, including a third-place finish at the National Christian College Athletic Association national tournament.
"It's awesome, especially since we had success in high school," Lean said. "We've already got some chemistry going in, so hopefully we can make some bigger and better things happen in college."