Five questions: Thirsty plants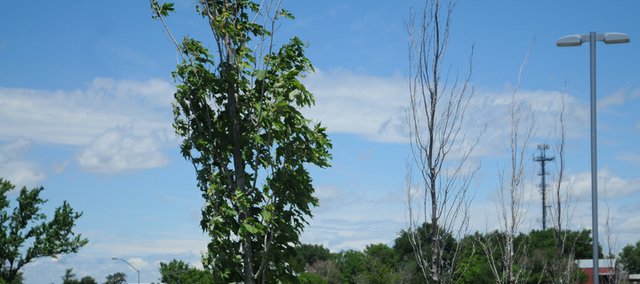 Rains of the last two months give hope that the drought of the previous two summers has ended. But as trees have leafed out for the season, dead limbs became obvious in many threes and shrubs, creating danger to people and property. Alan Stevens, director of the Kansas State Extension and Research Horticulture Center in Olathe, offers advice on what property owners should consider in making decisions about the fates of drought-stressed plants.
Q: What should a property owner consider when deciding weather to keep a drought damaged tree or shrub?
A: It's a cost benefit analysis. Anything that takes a long time to grow and mature has great value.
Q: Any guidelines as to what is too much damage?
A: I'd say if more than 50 percent of the tree is dead, it should be removed. There would be too many gaps in the canopy for it to present an attractive appearance.
Q: What should be done to further help damaged plants?
A: Right now, everything looks lush and green because of the rains and the cooler temperatures. If a plant struggled the past two years, you want to make sure it gets plenty of water in July and August with the return of hot, dry conditions.
Q: Are there any lessons to be learned from the past two summers about what kinds of trees property owners should plant or avoid?
A: Look for trees adapted to the stressful conditions. Stay away from birches. People like the white bark, but they don't do well with our hot, dry summers. Avoid pines. There are diseases and insects that attack mature plants.
Q: Any ornamental shrubs that should be avoided?
A: Among the tall bushes, arborvitae. A lot of them died from environmental stress the last two years. Also, snow loads split their branches. We saw a lot of that this winter.