McLouth girls begin prep with camp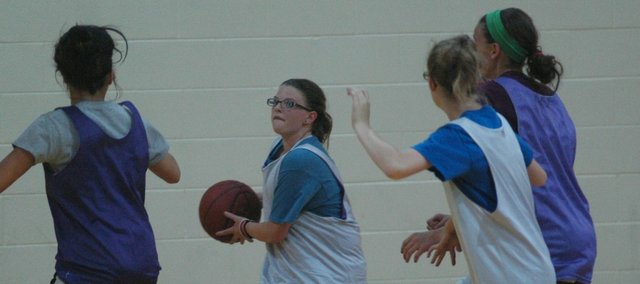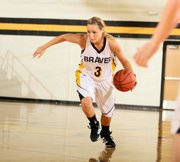 Photo Gallery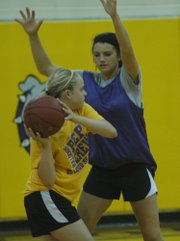 2013 McLouth girls basketball camp
The McLouth high school and middle school girls basketball teams met for a four-day team camp last week at MHS.
McLouth — Throughout her first season at McLouth High, girls basketball coach Lindsey Graf said her Bulldog squad made improvements that weren't always visible from the stands. Last week, Graf and company returned to the hardwood in search of further progress for the upcoming season.
The high school and middle school teams met in the high school gymnasium four days last week for a team camp. With several players returning — and now with a year's worth of experience in Graf's system — the preseason focus shifted from learning the basics to executing them on the floor.
"Our skill drills and things like that look better," Graf said. "The play is still rough, but we haven't done a lot of game speed stuff. There's a lot less teaching and a lot more actual basketball this year. They look better this year than they did this time last year."
Incoming seniors Kayla Steffey and Konner Patterson will look to lead a varsity squad that lost just one regular starter in 2013 grad Kaitlyn Hullinger. Juniors Summer Cerny and Angela Dailey and sophomores Dominique Tullis and Anna Moore are also back after logging significant minutes in 2012-13.
Between 15 and 17 girls showed up throughout the week of camp, but according to Graf, there is still potential for more additions when the season draws closer. Last year's varsity roster was comprised of 12 players.
"Word is slowly starting to spread again, so we'll see, but we'll probably end up right around that same number we had last year," Graf said. "There just aren't a lot of eighth-graders coming in."
Players will have opportunities to continue to fine-tune their skills in open-gym sessions this summer. Graf said ball handling and rebounding are primary focuses this season, as the team struggled in both departments last season.
Carlin joins Bulldogs as assistant
Last week's team camp also marked the first exposure for newly hired assistant Shannon Carlin. Carlin played at Tonganoxie High when Graf was an assistant coach for the Chieftains.
"We've always kept in contact because we both came to Tongie the exact same year," Graf said of Carlin. "It kind of led us to always have a special bond, and she was really wanting to get into coaching."
Carlin, a 2008 THS grad, fills the void left by former assistant Jason Graf, who was recently hired as the head boys coach.
During her time in Tonganoxie, Carlin the Chieftains to a fourth-place finish at state as a junior. She signed with Kansas City Kansas Community College out of high school and later transferred to Ottawa University. She averaged 8.8 points and 4.1 rebounds in her senior season, in which she earned an All-Kansas Collegiate Athletic Conference honorable mention.
"She's going to identify well with the kids," Graf said. "She has a wealth of knowledge that she's willing to share, but she's going to have to get out of her shell a little bit. As she becomes comfortable with the kids, that will become easier for her."